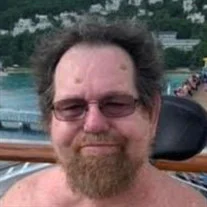 Tony Allen Moose Sr., AKA "Old Man, 66, of Mooresville, N.C., went to be with the Lord on Friday, September 2, 2022.
Tony was born January 22, 1956, in Statesville, N.C., to the late Libby Bostian and Banks Moose. He married Arlene Ann Cline, AKA "Pebbles," on April 20, 1982, and went on to have two handsome boys, Tony Allen Moose Jr. and Mitchell Scott Moose. Throughout the years, Tony and Pebbles' relationship showed everyone what genuine love looked like. Through thick and thin, they never stopped loving each other even after 42 years. He was always excited to see his boys get married and have children with the love of their lives just like he did.
Most of his life was spent working in the automotive field, fabricating and painting cars. He's always had a passion for an ice cold beer and classic cars. In his later years, he enjoyed gardening vegetables and hanging out in the shop.
Tony was a man who never met a stranger and would give anyone the shirt off his back (if he was wearing one). He was never afraid to speak his mind or show his love. The Moose household has been a home to many people, and no one ever left with their stomachs or hearts empty. Tony has touched so many lives and will be so greatly missed. All of the memories of Tony will keep him alive in our hearts and minds.
His service will be held at 3 p.m. on Saturday, September 17, at Cavin-Cook Funeral Home, Mooresville. A celebration of life will be following the service at The Moose Lodge.
Cavin-Cook Funeral Home & Crematory, Mooresville, is serving the Moose family. Condolences may be made to the family at www.cavin-cook.com.