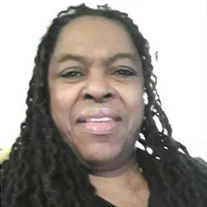 Ms. Tonya Yvette Turner, affectionately known as "Vette," entered into eternal rest on Sunday, December 11, 2022, at her residence.
Born in Iredell County on November 11, 1965, she was the daughter of Maggie Stevenson Turner, who survives, and the late James Alvin Turner Sr.
Vette was a 1984 graduate of North Iredell High School and a member of Landmark Church of God in Statesville, N.C. She had a passion for children and loved people. She had a shining personality and loved to sing. She loved her family, especially her grandchildren.
She leaves to cherish her memory, her mother, Maggie Turner; two sisters, Mary Outlen of Harrisburg, Pa., and Barbara Turner of Statesville; a brother, James Alvin "Nuck" Turner Jr.; a daughter, Forlisha Turner; a son, Alan Turner; two granddaughters, A'Nayah Turner and Niesha Davidson; a grandson, Alan "Ace" Turner II; two aunts, Virginia Lazenby and Mary Helen Turner; two uncles, Joe Nathan Turner of Romulus, Mich., and Leonard Turner; seven nephews, Bishop Thomas Outlen of Baltimore, Md., Edward "Pooka" Outlen, Michael Outlen of Harrisburg, Pa., Mitchell and Kimberly Turner of Charlotte, N.C., Travis Outlen of Harrisburg, Pa., James Alvin Turner III, and Blake Turner; a special niece and caregiver, Shanna Turner of Statesville; a special friend, Ashley Stevenson; and a host of great-nephews and a great-niece.
A Service of Love and Remembrance will be held Saturday, December 17, 2022, at 3 p.m. at the Nicholson Funeral Home Chapel with Bishop Thomas Outlen officiating. Burial will follow in Belmont Cemetery. The family will receive friends from 2 to 3 p.m. prior to the service.
You are never forgotten, loved one, nor will you ever be, for as long as life and memory last.
Nicholson Funeral Home is honored to serve the Turner family.