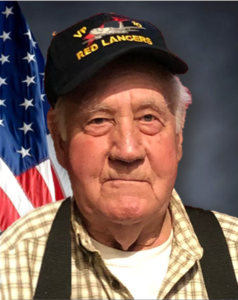 Veldon Grant Carrigan, 93, of Statesville, N.C., passed away Monday, May 16, 2022, at his residence.
Mr. Carrigan was born in Alexander County on March 16, 1929, the son of the late Odell Carrigan and Maggie Carrigan. Veldon honorably served his country in the U.S. Navy. He worked in engineering at Davis Regional Medical Center for over 30 years. Upon moving to Southport, N.C., he continued his career with Dosher Medical Center for an additional 20 years. Mr. Carrigan was a member of Masonic Lodge 690 in Statesville, for more than 50 years.
Along with his parents, Mr. Carrigan was preceded in death by his daughter, Marsha "Sissy" Thomas, and his sister, Margaret Moore.
He is survived by his life partner, Dianne Suther; his daughters, Gail Grant (Jerry) and Pam Carrigan (Karen Swaney); his brother, Kelly "Bud" Carrigan; and his sister, Mary Miller. He is further survived by his grandchildren, Joey Thomas, John Grant, Matt Grant, and Michelle Thomas; 12 great grandchildren; and one great-great grandchild.
The family will visit with friends Thursday, May 19, 2022, from 12:30 to 1:30 p.m. at Troutman Funeral Home. A Celebration of Life will be conducted at 1:30 p.m. in the Troutman Funeral Home Chapel. Jeff Tucker, a close family friend, will officiate. Burial will be held following the service at Iredell Memorial Gardens with full military honors.
Those wishing to make donations are asked to consider The Masonic Home for Children, 600 College Street, Oxford, NC 27565 or The Shriners Children's Hospital, 950 West Faris Road, Greenville, SC 29605.
Troutman Funeral Home is serving the family.