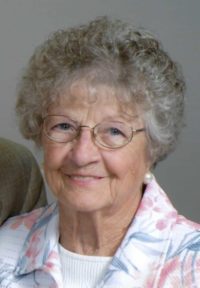 Vera Lucille Lawrence, 88, of Statesville, N.C., went to be with her heavenly father on July 14, 2022. Lucille was born in Galax, Va., on October 3, 1933, to the late James Roberts and Eva Fortner Roberts.
Lucille was preceded in death by the love of her life, Lester John Lawrence; and her brothers, James Roberts and Ray Arthur Roberts; and one sister, Georgie Lundy.
On July 15, Lucille and Lester will have celebrated their 67th wedding anniversary together, reunited in Heaven. What a wonderful day for both of them.
Left to cherish her memory are three sons, David Jeffery Lawrence, Steven Michael Lawrence (Jennifer), and Craig John Lawrence; one daughter, Teresa McLain Weber (Chad); seven grandchildren, Brandon McLain (Julia), Spencer Weber, Michael Lawrence, Kalyn Lawrence, Jessica Lawrence, Lindsay Lawrence, and Josh Bradshaw; and seven great-grandchildren, Maximus, Roman and Jack, Trip, Skylin, Brady and Bree; and her brother, Larry Dale Roberts.
Lucille loved her football but most of all, Christian McCaffrey. Whether it was a current game, past game, or replays, she was always cheering them on. She also loved her Dukie boys games, especially against the Tarheels. On the eve of Lester's funeral in March, Lucille and grandson, Brandon McLain, stayed up until midnight watching the Duke/UNC game during March Madness, a memory that Brandon will never forget. Whenever her Dukie boys would win, she would sneak over and hang her Duke T-shirt in a tree or yard. Lucille was also an avid puzzler and would spend many days and hours with her granddaughter Spencer, "working the puzzle." Her son, Steve, and family members from Florida would also pitch in and help, sitting around the table. Recently we completed the Lord's Supper puzzle, which she had hoped to put in her Sunday school class at Western Avenue Baptist Church, where she was a longtime member. Lucille was a devout Christian and loved her sisters in Christ. She loved to cross stitch for many years and not one wall goes without a sampler on it. She also loved to read books and had many friends that would exchange boxes of books at a time.
Most of all "Nannie Lou" was the best mother, caregiver, friend, grandmother, and great grandmother. She always wanted to help and take care of everyone. She spent many years loving and caring for her grandkids, Brandon and Spencer. Lucille and Lester also had a love of travel, across the seas, or traveling out west in their RV. We cherish their love. Their marriage is an inspiration for us all. They truly shared a love and life in each other and Christ.
We would like to thank all who provided and cared for our mother. A special thanks to Vickie, Sara, and Beth, and also to Hospice of Iredell County, Bobbie and Jennifer. Also special thanks to our sister Jennifer; I couldn't have done it without you.
The family will receive friends Sunday, July 17, 2022, at 1 p.m. at Western Avenue Baptist Church, with a memorial service to follow with Dr. Jeff Spry officiating.
Fond memories and expressions of sympathy may be shared at www.bunchjohnsonfuneralhome.com for the Lawrence family.
Bunch-Johnson Funeral Home is honored to be assisting the Lawrence family during this time.