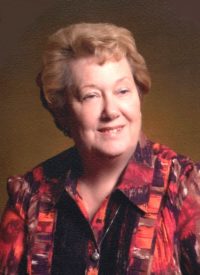 Ida Kate Clendenin, 81, of Lexington, N.C., passed away July 13, 2022. Kate was born on December 1, 1940, to Paul and Lois Huffman McKinney. Kate was preceded in death by her parents; husband, Neal Clendenin; and her brothers, Darrell, Bob, Bill, and Dan McKinney.
Kate leaves behind children, Jeff (Sharon) Clendenin, Don Clendenin, Karen Patterson, Terry (Chrystal) Clendenin, and Paul (Mary/Deanie) Clendenin; grandchildren, Samantha Clendenin, Jennifer (Donald) Hatley, Austin (Erica) Clendenin, Regan and Morgan Patterson, Kyle (Taylor) Pennington, Tyler (Madison) Pennington, Sloan Clendenin, Carson Clendenin, Damian Anderson, Kerry Hinson, Alexis Clendenin and Celeste Clendenin; brothers and sisters, Betty (Tony) Ellenburg, Harold (Linda) McKinney, Farrell (Brenda) McKinney, Dana Greer, and Tena (Don) Campbell; and numerous nieces and nephews that she cherished and loved.
Kate was a graduate of Scotts High School and The American Business College. She was employed originally by Kewaunee and later Hi-Tec Plating, from where she retired. She loved cleaning, camping, and traveling with her husband Neal. She also loved crafts, gardening, and most of all family. All of her family were her love and focus.
A visitation will be held on Monday, July 18, 2022, from 10 to 11 a.m. at Rocky Mount United Methodist Church. A funeral service held at 11 a.m. following the visitation. Burial will follow in the church cemetery.
In lieu of flowers, donations may be made to the Rocky Mount UMC Women's Group fund.
Bunch-Johnson is proud to be serving the Clendenin family.