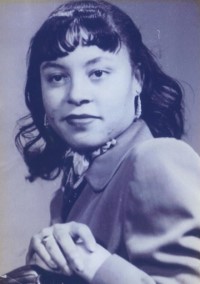 Vera Nell Hunt Martin was born January 30, 1932, in Roaring River, N.C., to Weaver and Blanche Harris Hunt. She passed away on May 15, 2022, at home, after a battle with an extended illness.
Vera graduated from Lincoln Heights High School, Class of 1953. She attended Winston-Salem Teacher's College (WSSU). She was employed at Wilkes General Hospital. Later she moved to Winston-Salem and was employed at Kate Bitting Hospital and Forsyth Medical Center as a Dietitian Clerk. Vera went on to work at several daycare facilities over the years, as she loved taking care of children. Galilee Missionary Baptist Church Day Care Center, Centenary Baptist Church Day Care and Shilohian Saint Peter's Day Care were among the places she worked in Winston-Salem. Upon moving, she worked at His Little One's Day Care over 12 years in Statesville, N.C.
Vera joined Poplar Spring Baptist Church at an early age. After she moved to Winston-Salem, N.C., she joined Red Bank Baptist Church in Germanton, N.C. She taught the Primary Sunday School class and was Chairperson of The Missionary Ministry and was the oldest member of the church. She attended faithfully until her health declined. After she married Bobby Martin, she moved to Statesville, N.C. and started back attending Poplar Spring Baptist Church. After Bobby's death, she occasionally attended Cochran Street Bible Church and Gray's Chapel United Church of Christ.
She was a fashionista, loved talking on her cell phone, wearing leopard print everything, and spending time with her family and friends. She will be remembered as a loving mother, grandmother, great-grandmother, sister, aunt, cousin, loyal friend, and neighbor.
Vera was preceded in death by her husband, Bobby Martin; sisters, Alfreda Coles and Hazel Franklin; brother, David Hunt; and granddaughter, Paris Grimes.
Her memory will be cherished by two daughters, Maureen Grimes Thomas (Rick), of Winston-Salem, N.C., and Marva Grimes of Wilkesboro, N.C.; a son, Jeffrey Grimes of North Wilkesboro, N.C.; two step-daughters, Tonya Martin, and Paula Mathis (Robert); seven grandchildren; nine great-grandchildren; devoted nieces, Yma Waugh (Johnny) and Myra Cuff (Carlie); a sister Portia Hunt of North Wilkesboro; and a host of nieces, nephews, cousins, and many friends.
A special thanks to Dr. Joshi, Dr. Robert Holmes, Dr. Walczyszyn, Lake Norman Oncology, Rev. and Mrs. James Clyburn Sr., the Red Bank Church family, Cochran Street Bible Church, Gray's Chapel United Church of Christ, and Bunch-Johnson Funeral Home and staff. In addition we would like to thank Brenda Nesbit, Paulette Rankins, Juanita and John Chambers, Carolyn Oswalt, Dan Cook, Barry Howell (Laverne), Pam Lawrence, Grace Turner, Larry Lackey, Barbara R. Dobbins, and Peggy Gamble for everything they did for our mother. Your acts of kindness will be treasured forever, may God richly bless you.
A memorial service will be held Thursday, May 26, 2022, at Bunch-Johnson Funeral Home in Statesville, N.C., at 1 p.m.
Bunch-Johnson Funeral Home is honored to be serving the Martin family.