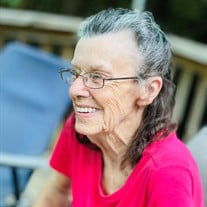 Mrs. Wanda G. McCoy Bangert, 78, of Statesville, N.C., went to be with her Heavenly Father on Saturday, February 12, 2022, at Davis Regional Medical Center.
Mrs. Bangert was born June 23, 1943, in Horsecreek, W.Va., and was the daughter of the late Oscar McCoy Sr. and Mary E. Muncy McCoy. She attended school in High Knob on Coonbranch Mountain.
In Iaeger, W.Va., on April 10, 1963, she was married to Jon Dane Bangert, who preceded her in death on April 11, 2010. Also preceding her in death was her son, Brian D. Bangert, on May 7, 2019.
She was a retired tool maker for Parker Hannifin of Mooresville, N.C.
Mrs. Bangert is survived by two daughters, Mary B. "Katie" Love and fiancé Lyle Crouder of Statesville and Patricia B. Campbell and husband Darren of Statesville; and two granddaughters, Katlin Bangert and partner Whitney Blair of Millers Creek, and Ashton B. Campbell and partner Alex Weatherman of Troutman; and one great grandchild, Brennan Byrd. She is also survived by two sisters, Linda Auville and Orethea Schrader and families; one brother, Carl McCoy and family; sisters-in-law, Irma McCoy and Joyce McCoy and families. Also surviving are a number of nieces and nephews; a special niece, Rhonda Samp and husband Mike and family of Lewiston, Mich., along with special friends, Cheryl W. Estep of North Wilkesboro and Don and Donna Baker of Claypool Hill, W.Va., also survive.
No services will be conducted locally, and burial will be in the McCoy Family Cemetery on Coonbranch Mountain in Iaeger, W.Va., at a later date.
Nicholson Funeral Home has the honor of serving the family of Wanda Bangert.