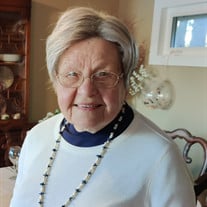 Edwina "Lorna" Josefchuk, 100, of Davidson, N.C., and formerly of Brookfield, Ill., went to be with the Lord on Saturday, February 12, 2022.
Lorna came from humble means and was raised on a small farm in Saskatchewan, Canada. Having lived through the Great Depression and dust bowl years, Lorna learned early the importance of having a strong faith and placing her trust in God to carry her through tough times. Her parents taught her to pray the rosary and entrust in the intercession of the Blessed Virgin Mary, a practice that remained steadfast through her entire life.
Her strength came from her Catholic faith, her family and her love for her fellow man, which was always present. Her humility and loving spirit gained her friends wherever she lived. She was an incredible mother, great cook, and wonderful homemaker, and her will to keep busy and keep moving was beyond reproach. Even at the age of 100, she was always on the move which is why her grandchildren lovingly referred to as the energizer bunny.
Lorna will be remembered fondly as the family matriarch, a happy, gentle lady who made wonderous desserts, enjoyed playing Rummy and Rumicube with family and friends. First and foremost, she will be remembered for being a loving wife, mother and grandmother. She relished spending time with and talking to her children, grandchildren, extended family and friends. Sharing happiness with her smile, providing a kind word or gentle nudge when needed came easy to her.
She was a member of St. Therese Catholic Church and found a profound peacefulness and serenity while attending mass.
In addition to her parents, she was preceded in death by her husband, Joseph Josefchuk; and brothers, Elmer and Bernard; as well as her son-in-law, Ray Tkachuk.
Survivors include her daughter, Valerie Tkachuk of Prince George, B.C., Canada; daughter, Joan Bianco and husband Dean of Mooresville; son, Gregory Josefchuk and wife Sheryl of Catawba; son, Donald Josefchuk of Appleton, Wis.; grandchildren, Sarah Chambers and husband Seth, Matthew Josefchuk, Valeriy Bianco, Bryan Josefchuk and wife Jessica, Marina Bianco and fiancé David Onsrud, Philip Josefchuk, Mikayla Josefchuk and Kirsten Josefchuk. Also surviving are great grandchildren, David Josefchuk and Joshua Josefchuk.
A Funeral Mass will be held on Saturday, February 19, 2022, at 11:30 a.m. with Father Mark Lawler officiating. The family will receive friends one hour prior to the mass from 10:30 to 11:30 a.m. at St. Therese Catholic Church in Mooresville, N.C. Inurnment will take place at St. Mary Catholic Church in Huntly, Ill., at a later date.
The family would like to extend their sincere appreciation to all the nurses, physicians and the staff of Williams Place, and her beloved family and friends for their unwavering love and care that was provided. Your kindness will never be forgotten
In lieu of flowers, memorial donations may be made to Catholic Charities USA, 2050 Ballenger Avenue, Suite 400, Alexandria, VA 22314 (https://www.catholiccharitiesusa.org/) or St. Jude's Children's Research Hospital, 262 Danny Thomas Place, Memphis, TN 28105 (https://www.stjude.org/).
Cavin-Cook Funeral Home and Crematory, Mooresville, is serving the Josefchuk family. Condolences may be made to the family at www.cavin-cook.com.