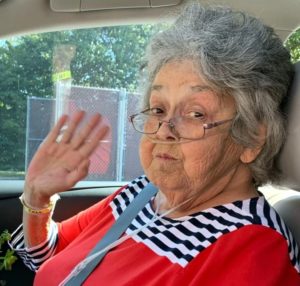 Wanda Gail "Tuffy" Gatton Tulbert was born in Iredell County on June 10, 1945, to Easter and Tom Gatton who predeceased her. She married the love of her life, Kenny Tulbert, and was widowed at a young age. She went home to be with the Lord and her beloved Kenny on June 27, 2022. She was predeceased by brothers James, Dwight, Gilbert and Harold Gatton, and sister, Annie Bennett.
Tuffy is survived by her daughter, Pam (Jim) Hutchinson of Cumming, Ga., and Jay (Anita) Tulbert of Olin, N.C. She has five beloved grandchildren who brought her great joy, Gabriel, Thomas and Meghan Tulbert, all of North Carolina, and Holly and James Hutchinson of Georgia. She is survived by siblings Gaynell Fritts of Lexington, N.C., Martha (David) Weatherman of Lake Hartwell, Ga., and Jerry (Faye) Gatton of Statesville, N.C. She is also survived by numerous nieces, nephews, cousins, friends and neighbors that she loved and considered family.
Tuffy was an exceptional Southern cook who showed her love for others by feeding them. From her ham biscuits, country style steak and gravy to her pound cakes and fudge—everyone had a favorite and this was never more evident than at Christmas time as she carried in laundry baskets full of candy. She couldn't imagine leaving out a favorite for this niece or that cousin. She worked in the textile industry sewing for many years and was most proud of her work developing training programs for sewing new garments in her later years.
There will be an informal service at Granny's Garden at Tabor Presbyterian Church at a later date.
In lieu of flowers, the family requests donations to Hospice of Iredell County, where she was attended to and cared for so lovingly over the past two years, and Gordon Hospice House where she spent her final days.
Bunch-Johnson Funeral Home is honored to be entrusted with the care of Tuffy and her family.