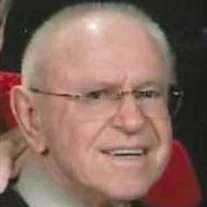 Wesley Edward Sprinkle, 83, of Statesville, N.C., died Thursday, November 17, 2022, at the Gordon Hospice House. He was born in Iredell County, N.C., on December 18, 1938, to the late Roe R. Sprinkle and Elma Inez Jolly Sprinkle.
Wesley was a graduate of Central School. On September 9, 1959, he married Joan Little. He attended N.C. State University and later owned and operated Sprinkle Surveying. After retirement, he worked for G.L. Wilson. Wesley loved the outdoors and enjoyed fishing, hunting, gardening, and watching the birds. He also loved his church and was very involved as a deacon, teaching Sunday School and singing in the choir. As a scholar of the Bible, Wesley was involved with the Gideon's International Group and enjoyed doing the children's sermon at church. He was known as a man with great love for family and friends and always took time to listen and share.
In addition to his wife Joan, those left to cherish his memory are three daughters, April Nunn (Chris), Lisa Daniels (Charles), Cathy Shaw (Garry); three grandchildren, Sara Nunn, Grayson Bowlin, and Cayla Bowlin; two step-grandchildren, Amber Reels (Daniel) and Ashley Miller (Matthew); and four great-grandchildren, Christopher Daniels, Kimber Miller, Elliot Miller and Sawyer Miller. Also surviving are three brothers, David Sprinkle (Donna), JD Sprinkle (Ellen), and Larry Sprinkle (Debbie), and other extended family.
Funeral Services will be held Monday, November 21, 2022, at 3 p.m. at Yadkin Baptist Church with Phillip Crider and Rick Felts officiating. Burial will follow in the church cemetery. The family will visit with friends from 2 to 3 p.m. at the church prior to the service.
Memorials may be given to Yadkin Baptist Church, 2980 Wilkesboro Highway, Statesville, NC 28625 or St. Jude Children's Hospital, 501 St. Jude Place, Memphis, TN 38105.
Nicholson Funeral Home is honored to serve the Sprinkle family.