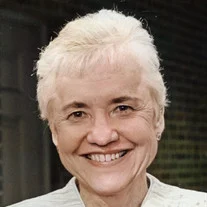 Willa Colleen Cronin's mother died on a cold winter day in 1935 when Colleen was five. The casket was taken to the cemetery by a mule-drawn wagon up a steep, winding, mountain road in rural West Virginia as the funeral procession walked behind in the rain. It was, perhaps, this singularly tragic event that shaped the life and direction of Colleen Cronin for the decades to come. While technically not an orphan, she was passed between relatives as the country tried to recover from the Great Depression. Some homes were welcoming; some not.
Gifted with a sharp mind, and a desire to leave Webster County behind, she graduated Webster Springs High School at age 16. She worked to provide her own way through West Virginia University, graduating in 1950. It was there, in Morgantown, as the men were returning from WWII, that she met her love, Thomas Cronin. And it was there that she found her place in the Catholic Church. Her devotion to both unwavering. They were married 52 years until his death in 2002. Her love of the Church never subsided. After earning a Master of Public Health Nutrition degree at the University of North Carolina, and her husband's return from the Korean War, the couple settled in Charleston. There, they raised a family of four children while she worked as a nutritionist for the State of West Virginia and cared for her father-in law, who was living with them. In 1968, the family moved to St. Louis, where she lived and worked until her retirement from the St. Louis County Health Department some 28 years later.
Empty nesters by this time, the couple relocated to Mooresville, N.C., where they spent their days enjoying hobbies, family, and friends.
Colleen Cronin died December 4, 2022. She was 93. She passed peacefully with her daughter at her side. Known for her pleasant sense of humor and ability to laugh at herself, she also had a direct personality which often left one with little doubt as to what was on her mind! She prepared her children well for life, which was arguably her finest achievement.
Colleen is survived by all four of those children; John (Mary Ellen), Anne (Andrew), Martha, and Patrick (Rebecca). Also surviving are six grandchildren and three great-grandchildren scattered about in Missouri, West Virginia, Illinois, and Colorado.
Funeral masses are planned in the future at St. Therese Catholic Church in Mooresville and St. Alban Roe Catholic Parish in Wildwood, Mo.
The family welcomes donations to Hospice & Palliative Care – Charlotte Region, or the St. Anne Parish, as an expression of sympathy in lieu of flowers: HPCCR, 7845 Little Ave., Charlotte, NC 28226; or St. Anne Parish, 160 McGraw Ave., Webster Springs, WV 26288
Cavin-Cook Funeral Home & Crematory, Mooresville, is serving the family.