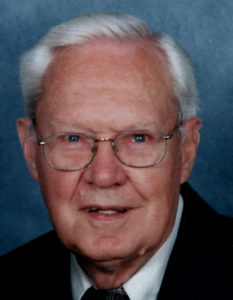 Willard White, 92, of Statesville, N.C., passed away Sunday, June 26, 2022, at Gordon Hospice House.
Mr. White was born, November 23, 1929, in Milburn, W.Va., the son of the late James Granville White and Grace Austin White. Willard attended schools in Virginia, The Baptist Academy, in Mouth of Wilson, Va., and graduated from Rowan Technical Institute, Salisbury, N.C. He served honorably in the U.S. Army for six years, including tours in Germany and Korea. Willard was a faithful member of Wesley Memorial United Methodist Church and a lifetime member of the VFW. He was also a member of American Legion Post 65. On February 25, 1956, in Catawba County, Willard married his beautiful wife, Helen Loftin. Together they shared 58 years of marriage before her passing in 2014. Mr. White was the owner/operator of Willard White's Appliance Service for more than four decades.
In addition to his parents and wife, Willard was preceded in death by his son, Phillip Alan White; his daughter, Brenda W. Morgan; brothers, Ervin, John, Albert, Calvin, Herbert and David White; and sisters, Coetta W. Long, Laura W. Drum, Vada W. Dellinger and Faye W. Roberts.
Those left to cherish his memory are his son, Steven L. White (Eileen); his daughter, Phyllis W. Mills (Donald); and son-in-law, Phillip W. Morgan; five grandchildren, Daniel and Christine White, Gregg Mills (Cassidy), D.C. Mills III, and Amber M. Dunn (Brad), six great-grandchildren, Dalton, Emma, Carter, Freya and Greyson Dunn, and Macaiden Mills. He is further survived by his brothers, Howard, Charlie, and Lee White; and his sisters, Ardith W. Pennell, Dorothy W. Stroupe, Margaret W. Jones, Nancy W. Hall, and Alice W. Wooldridge.
A memorial service with full military honors celebrating the amazing life of Willard White will be held at 2 p.m. on Thursday, June 30 2022, at Wesley Memorial United Methodist Church with his dear friends Garland Pardue and the Reverend Chris Fitzgerald officiating. The family will visit with friends following the service in the church parlor.
Internment will be at the National Cemetery in Salisbury, N.C., at a later date.
Those wishing to make memorial for Mr. White are asked to consider Wesley Memorial United Methodist Church, 825 Wesley Drive, Statesville, NC 28677 or the charity of the donor's choice.
Troutman Funeral Home is serving the family.