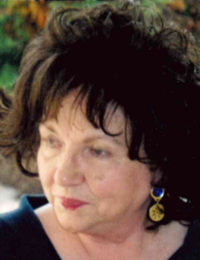 Elizabeth Ann "Libby" Douglas was born in Iredell County, N.C., on Thanksgiving Day, November 24, 1938. She passed away peacefully in her home on June 24, 2022.
Libby was the youngest daughter of the late Russell Avery Douglas and Fannie Chapman Douglas. Her brothers, James Clayton Douglas and Richard Avery Douglas, preceded her in death, as well as a nephew, Richard Paul Douglas, and a sister-in-law, Bernita Reynolds Douglas.
Surviving are two sisters, Frances D. Conger (William-Thomas) of Rockville, Md., and Janice C. Douglas of the home; and sister-in-law, Joan Moore Douglas. Nieces and nephews were loved and spoiled by Libby, including Mary Douglas, Russell William Douglas (Penny) of China Grove, Gena Davis (Shannon), and William T. Conger, Jr (Diana). Great nieces and nephews were just as loved and spoiled by Libby, including Leah Davis, Alyssa Douglas, Evan Davis, Conner Douglas and Thomas Jefferson Conger.
Libby was a lover of words and music and an accomplished musician. She was a pianist and organist at Midway United Methodist Church for many years. She wrote poetry, learned to paint and loved life. She wrote an article on gratitude and was always grateful to face the day.
Libby graduated from Scotts High School in 1957 where she excelled in her subjects. She played first chair clarinet and loved marching band. After high school she attended ASU and graduated in1961. Libby's first teaching position was at Central High School where Richard Feimster was her principal. When the high school closed, she moved to Maryland and taught in Montgomery County from 1967 to 1970. Libby decided to widen her horizons so she returned to AU and received her master's degree in business and economic education. She moved to Raleigh for thirteen years and worked for the State Department of Public Education as a Vocational Education Director and consultant. She was State Chairman of Future Business Leaders of America. Her area included Manteo to Murphy. Public Education was so important to Libby that she wrote and published articles about it. Libby moved back home in the mid-1980s so she could be close to family. She then ended her teaching career at West Iredell High School in 1995. However, she has always remained interested in young people.
Funeral services will be held Thursday, June 30, at 11 a.m. at Midway United Methodist Church where she was baptized and grew up. Pastor Ralph Lepley will be officiating with guest ministers Larry Holleman and Carl Williams.
The family wishes to offer a special thank you to Erica Brown, cousin; Mary Douglas, niece; other caregivers; and hospice for their care of Libby.
Memorials may be made to Midway United Methodist Church at 1200 Midway Road, Statesville, NC, 28625, or St. Jude Children's Hospital at 262 Danny Thomas Place, Memphis, TN 38105.
Troutman Funeral Home is serving the family.