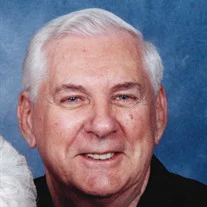 William John Hladik Sr., 88, of Mooresville, N.C., passed away on Monday, July 11, 2022. He was born on December 23, 1933 in Schenectady, N.Y., to the late Anthony and Johanna Sefcovic Hladik.
Mr. Hladik was a veteran serving in the U.S. Army, and he worked at IBM for 26 years. He volunteered with Habitat for Humanity for 21 years and was the first recipient of the Golden Hammer award. Mr. Hladik loved to build things, including his own lake home. He collaborated with his son Bill to create software that allowed Habitat volunteers to quickly make all the lumber cuts needed to build a complete home. Mr. Hladik was a member of St. Therese Catholic Church in Mooresville.
In addition to his parents, he was preceded in death by a daughter, Susan Thrailkill.
He is survived by his wife of 65 years, Joyce Gidley Hladik; sons, William Hladik Jr. (Mary), Kirk Hladik, and Christopher Hladik (Kerry); son-in-law, Byron Thrailkill; brother, John Hladik; grandsons, Jason Hladik (Nicole) and Cody Thrailkill; and great grandchild, Hadyn Thrailkill.
The family will receive friends on Friday, July 15, from 4 to 6 p.m. at Cavin-Cook Funeral Home. A Mass will be held at 1:30 p.m. on Saturday, July 16, at St. Therese Catholic Church, Mooresville, with Father Mark Lawlor officiating. A short reception at the church will follow.
Details for LIVE access are below:
Livestream start time: 1:27 p.m. Livestream end time: 2:50 p.m.
The broadcast can be accessed LIVE from this page on the church's website: https://www.sainttherese.net/mass-livestream
Viewers should scroll down the page and click the arrow in the center of the StreamSpot viewer to start watching the stream (It will say "Live" in the upper left corner beginning at 1:27 pm).
To access the broadcast after the funeral:
The broadcast can also be watched from the Mass Livestream page on our website for one week after the funeral has ended. Viewers will need to click in the StreamSpot viewer, then click the option for "Previous Broadcasts." From there, use the arrows to scroll through the broadcasts to get to the funeral and then click the picture to play the broadcast.
In lieu of flowers, memorials may be made to Habitat for Humanity in your area.
Cavin-Cook Funeral Home & Crematory, Mooresville, is serving the Hladik family. Condolences may be made to the family at www.cavin-cook.com.