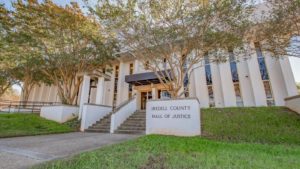 BY MIKE FUHRMAN
An Iredell County Superior Court jury found a former church leader charged with sexually abusing a teenager about 10 years ago guilty of seven felony counts on Wednesday afternoon.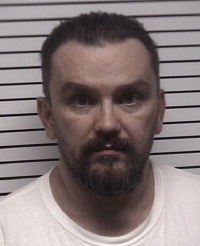 The jury of five women and seven men deliberated for about 50 minutes before finding Dalton Smallwood guilty of six counts of statutory sex offense and one count of taking indecent liberties with a child as a result of a sexual relationship he had with a 15-year-old girl.
Judge R. William Bell sentenced Smallwood, 49, to a minimum of 338 months and a maximum of 478 months in prison after Assistant District Attorney Crystal Beale asked the judge to impose a sentence that would protect other children from the defendant.
The victim and her father declined to comment about the outcome — except to express their appreciation for the jury.
After jury selection, the trial began Tuesday with damning testimony by the victim. (See Related Article.)
The prosecution rested its case Wednesday morning, and defense attorney Judy Dalton did not present any additional evidence.
When the judge asked Smallwood if he understood he had the right to testify and the decision about whether to take the witness stand was his alone, the defendant's response seemed to sum up his view of the trial:
"I honestly see no point," he said.
Prosecutors had attempted Wednesday morning to introduce evidence that Smallwood had sexually abused another child in his home years earlier.
Outside the presence of the jury, a second young woman testified that the defendant had inappropriately touched her on two occasions in his home when she was eight or nine years old. Like the victim in this trial, her family was acquainted with Smallwood through church. The defendant faces additional charges in connection with those allegations.
Beale, who called three witnesses and introduced nearly a dozen exhibits during the trial, argued that the woman's testimony was relevant because it showed Smallwood had a pattern of abusing children he met at his church. The defendant met both women at Shepherds Baptist Church in Mooresville when they were very young children.
Judge Bell, however, ruled that there were not enough similarities in the cases, and said the second woman's testimony would be unfairly prejudicial to the defendant.
During the trial's first day, a young women detailed several incidents between April and August of 2012, when she was 15 years old, in which she had sexual contact with Smallwood.
According to her testimony, the incidents occurred at a Vacation Bible School at Strait Way Baptist Church in Troutman, where Smallwood was a youth instructor; at a wedding at Liberty Baptist Church in Mooresville; and at Smallwood's home near Troutman on two occasions — once while the teen's father was working up an estimate for roofing repairs for the defendant and a second time while he was doing the repairs.
Under N.C law, a 15-year-old cannot consent to sexual activity with an adult. Smallwood was 39 years old in April of 2012.
During her closing argument, Beale told the jury that Smallwood was a manipulative opportunist who knew exactly what he was doing — and that it was wrong.
Reading an entry Smallwood wrote to the teen in his journal, Beale turned the defendant's own words against him.
"I am horrible," he wrote, "but I loved you from the first time you smiled at me."
Smallwood admitted to having a physical relationship with the teen in recorded phone conversations with her father and a Rowan County Sheriff's Office detective.
"He calls it consensual sex," Beale told the jury. "He may believe to this day that it was consensual sex. But as we know a 15-year-old cannot consent."
In her closing argument, defense attorney Judy Dalton asked the jury to find Smallwood not guilty, arguing that her recall of events that happened 10 years ago could not be relied upon. Some of the activity the teen described could have occurred after she was 16 or even in Rowan County, she said.
Dalton, who was court appointed in the cases, also said the investigation was flawed, pointing to the fact that the Iredell County Sheriff's Office did not conduct its own investigation. Iredell County prosecutors relied on the evidence and witness statements provided by the Rowan County Sheriff's Office, which initiated the sex crimes investigation after being contacted by the victim's father.
After Smallwood was sentenced, she asked the judge to note his appeal and appoint the appellate public defender's office to represent him.