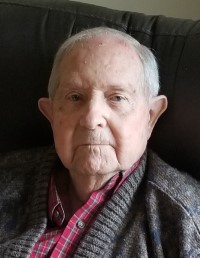 With heavy hearts, we announce the passing of William "Pierce" Bolin, 95, of Statesville, N.C., on February 15, 2022. Pierce was a dedicated man of God who shared his love and gifts with his family, friends, service in his church, and volunteering.
Pierce attended Ebenezer and Harmony Schools and completed a machinist apprenticeship at the Norfolk Navy Shipyard during World War II. Being employed on January 7, 1948, as a machinist and advancing into Quality Control in 1981, Pierce worked for close to 39 years at Southern Screw Company before his retirement. He was a previous member of Christ Boulevard United Methodist Church, where he served in various leadership positions, and has attended East Side Baptist Church since 2013.
Pierce loved serving God and those in his community. His faith was a daily testimony to his family, his friends, and those who he helped. Pierce's ministries included visitations with shut-ins and those in nursing homes and hospitals, continuing these visits well into his 80s. He split wood for the Yokefellow Ministry of Statesville and was recognized with the 2019 Volunteer of the Year Award from Maple Leaf Health Care.
Pierce is survived by his wife of 71 years, Betty Shoemaker Bolin; son, Johnny Bolin (Susan); daughter, Sandy Sipes (Mike); sister, Mary Lois Hollingsworth; brother, Dwight Bolin; brother-in-law, Clarence Draughn; grandchildren, Jon Bolin (Michelle), Christina Miles (Cory), Nichole Stoll, and Eric Sipes (Kelly Marburger); nine great-grandchildren; and beloved nieces, nephews, and friends.
Pierce was predeceased by his parents, Virgin and Vannie White Bolin; four sisters and two brothers-in-law, Florence Bolin, Lucille Brown (Vernon), Lillian Warren (James), and Evelyn Draughn; one brother and two sisters-in-law, Paul Bolin (Joan) and Julia Bolin; and brother-in-law, Ernest Hollingsworth Jr.
The family wishes to express appreciation to Missy Ellis for providing loving, caring nursing services for Pierce, and to Iredell Hospice & Palliative Care for the compassionate and essential homecare services provided by their staff.
The family is grateful for God's mercy and the gift of salvation through the death and resurrection of Jesus Christ, our Lord: "But God commendeth his love toward us, in that, while we were yet sinners, Christ died for us" (Romans 5:8).
Visitation with family will be from 1 to 2 p.m. and the funeral service will be at 2 p.m. on Saturday, February 19, 2022, at East Side Baptist Church in Statesville. In lieu of flowers, please consider making a donation to East Side Baptist Church, 310 Eastside Drive, Statesville, NC 28625; or to Iredell Hospice & Palliative Care, 2347 Simonton Road, Statesville, NC 28625.
Online condolences can be made to the family at www.troutmanfuneralhome.com.
Troutman Funeral Home is serving the family.