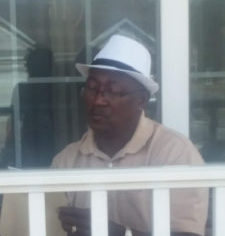 Mr. William "Teddy" Oscar Miller Jr., 67, of 504 Crystalwood Court, Concord, N.C., passed away at Lake Norman Regional Medical Center on Saturday, June 18, 2022, following a brief but debilitating illness.
He was born in Statesville, N.C., on February 1, 1955, to the late William Oscar Miller Sr. and Gertrude Elminer Westmoreland Miller.
He retired from Blue Max Transport, a trucking company based in Charlotte, N.C., after almost 20 years of service. He was a life member of South Iredell A.M.E. Zion church in Troutman, N.C., where he faithfully served as a musician and member of the finance committee. His favorite hobbies were fishing and vacationing on the coast of North Carolina, playing his bass guitar, and spending time with his grandchildren.
In addition to his parents, William was preceded in death by his brother, Eric Miller; niece, Trena Miller; father-in-law, Charles Esther Everhart; and mother-in-law, Lillian R. Everhart; and a host of nephews, nieces, cousins, other relatives, and friends.
He leaves to cherish the memory of his life his wife, Marjorie Miller of Cleveland; two sons, Larry Everhart of Charlotte and Torry Everhart of Cleveland; two daughters, Sheryl Everhart of Statesville and Sherry (Tyris) Bailey of Troutman; eight sisters, Gladys (Kenneth) Everhart, Priscilla (Tony) Wilson, Lillian Reddick, Mary (Daniel) Horton, Margaret Hogue, Charlette Harrell, Teresa Smith, and Diane Reddick Teague; three brothers, James (Delois) Reddick, John Henry (Teresa) Reddick Sr., and Anthony Reddick; a step-mother, Mary Elizabeth Miller; two uncles, Walter Westmoreland and Barnette (Glenda) Westmoreland; an aunt, Patricia Ann Walls; eight grandchildren, TiShelle Rickett, Miriah (Jerry) Ellis, Labica Everhart, Monique Everhart, Quincey Bailey, Kaedan Everhart, Rayden Bailey, and Torrin Everhart; and seven great-grandchildren, a host of nephews, nieces, cousins, other relatives and friends.
A Celebration of Life will be held at 1 p.m. on Tuesday, June 28, 2022, at South Iredell A.M.E. Zion Church, Troutman. Reverend Bobbie Samuels, will officiate and burial will follow in the church cemetery.
Visit the book of memories for William Oscar Miller Jr. at www.rutledgeandbigham.com.
Clyburn & Bigham Mortuary, Mooresville, is serving the Miller family.