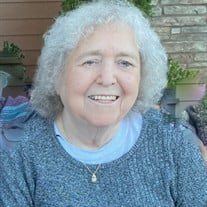 Willie Mae "Billie" Luffman, 71, of Mooresville, N.C., and formerly of Cornelius, N.C., peacefully went to be with her Lord and Savior on Thursday, December 22, 2022, at the S. Mitchell Mack
Hospice House in Mooresville, N.C., surrounded by her loving family.
She was born October 29, 1951, in Murphy, N.C., to the late Cecil and Oureen Jones. In addition to her parents, she was preceded in death by her brother, Joe Jones, from Huntersville, N.C.
Billie was a member of Rockwell Baptist Church. She was a good Christian, a kind, loving, and shy woman. She was devoted to her church. She loved spending time with her husband Johnny, their families, and her church family. She loved going on trips. She always loved "company." As soon as you come in her house, she always offered something to eat and drink. She loved all her grandkids and always made sure they had cookies and milk or juice when they came to her house.
Most important to her was her family, and she will forever be remembered as a loving and devoted wife, mother, grandmother, great-grandmother, sister, aunt, and friend.
She leaves a lasting legacy to be cherished by her survivors, including her husband Johnny Luffman; daughters, Sandy Hunt and husband Chris of Denver, N.C., Michelle Alexander and husband Randy of Mooresville, N.C., and Melinda Luffman, of Rockwell, N.C.; grandchildren, Christina Houston (Grant), Hannah Schleicher, Treavor White, Hayley Horne, Courtney Horne, and Savannah Luffman; great-grandchildren, Layla Schleicher, Zayden White, Connor Houston, Watson Baker, Nathan Luffman, Alakai White, Baylee Luffman, Luke Beal, Sierra Houston, and Everly White; sisters, Shirley Smith and Polly Jones; brothers, Tommy Jones of Mooresville N.C., and Johnny Jones (Pam) of Statesville, N.C.; a host of nieces, nephews and friends and her precious fur baby, Toby.
Visitation for family and friends will be Wednesday, December 28, from 1 to 2 p.m. at Rockwell Baptist Church. Services will begin at 2 p.m. also at the church with Rev. Dwayne Barber officiating. A burial will follow the service in the church cemetery.
The family would like to extend their sincere appreciation to all the hospice nurses, physicians, and staff, her beloved church family and friends, for their unwavering compassionate and supportive care that was provided. Your kindness will never be forgotten. In lieu of flowers, memorial donations may be made to her spouse, Johnny Luffman, c/o Cavin-Cook Funeral Home, P.O. Box 977, Mooresville, NC 28115.
Cavin-Cook Funeral Home and Crematory, Mooresville, is serving the Luffman family. Condolences may be sent to the family at www.cavin-cook.com.