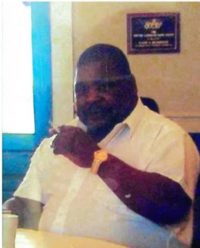 Willie Michael "Mick" Burke, 60, passed away Tuesday, September 6, 2022 in his home. Willie was born August 31, 1962, to Willie Lee Jones and Hazel Ann Bowman Burke of Iredell County, N.C.
He was preceded in death by his parents, Willie and Hazel; brothers, David Burke and William Burke; sisters, Joyce Burke and Mildred Everhart; nephew, Perry Jamayne Burke; and niece, Wanda Bowman Culbreath.
Those left to cherish his memory are his loving wife, Jonathan "Johnsie" Burke; sons, Michael Burke (Nikkole Gray) and Brandon Burke (Latisha Champion); daughters, Tiffany Raines (Barry) and Gabrielle Burke (Derrick Brown); grandchildren, Antonio Ellison, Savannah Raines, Ahoneste Burke, Chase Burke, Jamarr Burke, Josiah Burke, and Jaxx Burke; brothers, Rayford Burke and Tony Burke (Jackie McDowell); sisters, Barbara Bowman, Patsy Bowman, Alicia Rayton (Bishop), Christine Johnson (Gerald), and Vivian Argoe (Donald); brother-in-law, John Everhart; aunt, Julia Powell; and special friends, Junior Whren, Thomas "Peanut" Everhart, Jimmy Moore, Delilah Mathis, and Dora Gay.
Services are to be held Monday, September 12, 2022, at Bunch-Johnson Funeral Home. A visitation is scheduled for 12:30 to 1:30 p.m. with a service to follow.
Bunch-Johnson Funeral Home is proud to be serving the Burke family.