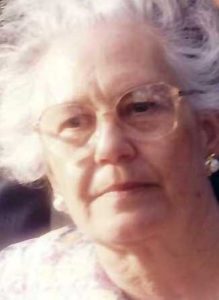 Shula Maye Morrow Mitchell Boyd of Statesville, N.C., passed away Monday, September 5, 2022, at Heritage Place in Statesville.
Born October 5, 1926, she was the oldest of seven children, daughter of the late Marshall A. Morrow and Erma Morrow Morrow. In addition to her parents, she was preceded in death by her spouse, William V. Boyd; brothers, Fred, Edwin, and Dwight Morrow; and sister, Emily Morrow Harris.
She is survived by one daughter, Gloria Kay Mitchell Scatena; one son, William Victor Boyd Jr.; four grandchildren; one stepson, Bobby Boyd; three step grandchildren; numerous great grandchildren; one sister, Dianne Houston; and one brother, Thurman Morrow.
Shula graduated from Celeste Henkel High School. She lived in Statesville before moving to California and then returned to Statesville, where she remained the rest of her life. She was a hard worker and gentle soul. She was creative, loved to cook, loved nature in all forms and music. She was jovial and loved by those who knew her.
A visitation will be held on Friday, September 9, 2022, from 1 to 2 p.m. at Bunch-Johnson Funeral Home. A funeral service will start at 2 p.m. in the funeral home chapel. Burial will follow at Iredell Memorial Gardens.
Memorials may be made to Hospice and Palliative Care of Iredell County, 2347 Simonton Road, Statesville, NC 28625
Bunch-Johnson Funeral Home is honored to be serving the Boyd family.