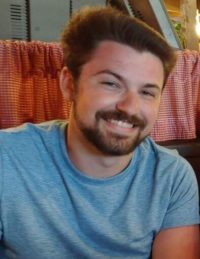 Zachary Matthew Tharpe, 24, of Statesville, N.C., went home to be with the Lord on Tuesday, April 5, 2022, with his parents, two brothers, and his grandparents by his side walking him home.
Zach was born on February 8, 1998, the son of Tommy Tharpe and Kimberly Morgan Tharpe. He was a member at Mt. Nebo Baptist Church and worked at TQM Roofing.
Along with his parents, Zach is survived by his brothers, Ryan and Cole Tharpe; his maternal grandparents, Atwell and Helen Brown; and his paternal grandmother, Fran Tharpe; and family fur babies.
He was preceded in death by his paternal grandfather, Bob Marlowe; his maternal grandfather, Richard Morgan; and his step-maternal grandfather, Roger Morris.
A 2016 graduate of West Iredell High School, Zach studied computer engineering at Western Carolina University.
A cross country runner in high school, Zach's hobbies included bowling, gaming, and fishing. Being a self-taught computer guru, he loved to build computers. His favorite times were spent gathering with family and being with his brothers and buddies around a bonfire cooking hot dogs and s'mores.
Funeral services for Zach will be held on Sunday, April 10, 2022, at 3:30 p.m. at Mt. Nebo Baptist Church, 2600 Old Mountain Road, Hiddenite, N.C., with the Reverend Brian Eades officiating. Burial will follow at Oakwood Cemetery. The family will visit with friends from 2 to 3:30 p.m. prior to the service.
For those who wish to make memorials the family asks they be given to Hospice of Iredell County. Plants are encouraged in lieu of fresh cut flowers.
Troutman Funeral Home is serving the family.