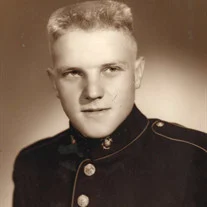 John Joseph Hollenback, 90, of Mooresville, N.C., passed away peacefully holding hands with his wife Patricia and son John Jr. on April 4, 2022, due to complications of dementia.
John was born February 28, 1932, in Dubuque, Iowa, to Robert and Mary who preceded him in death. Along with his parents, son Daniel Lee of Warrenton, Va., sisters June (Art) Beier of Brookfield, Wis., and Virginia (Donald) Herbst of Dubuque, Iowa; brothers Andrew (June) of Farley, Iowa, and Robert Jr. (Joan) of San Jose, Calif., son-in-law Captain Stephen Riley III (Ret. USN) of Mechanicsville, Md., and daughter-in-law, Timi Jo of Seal Rock, Ore.
John is survived by his wife of 67 years, Patricia, of Bridgeport, Neb.; sons; John (Honcho) Jr. of Mechanicsville, Md., Dennis (Butchie) and wife Tammie of Mustang, Okla.; daughters, Sharon Kay Riley of Mechanicsville, Md., Patricia (Porky) and husband Mickey Moffitt of Norfolk, Va., Carrie Jo and husband Steven Seaton of Glenn Dale, Md., Mary (Sugar) and husband Ronnie Moore of Chesapeake Beach, Md.; daughter-in-law Jane of Chesapeake, Va.; brother Richard (Dick) and wife Donna of Lehigh Acres, Fla., and sister Ava Ferlmann of Peoria, Ill.; and 22 grandchildren and 26 great grandchildren.
John was born and raised in Dubuque, Iowa. He and his family were very close. They loved to play cards, and Euchre was a family favorite. After high school, John enlisted in the Marine Corps in 1951. He went to boot camp at Camp Pendleton, Calf. After losing a coin toss, which was heads for east and tails for west, well "west" it was and he was shipped out to Korea. He was in the communications unit as a cryptographer. With his security clearance and being in communications, he was sent up to Pork Chop Hill to deliver the message that the war was over and to notify General Chester Puller. John was then shipped stateside to El Toro Marine Corps base in Santa Ana, Calif. He met and married the love of his life, Patricia Gusman of Bridgeport, Neb., on February 14, 1955. John was honorably discharged in April 1955. They went back to Dubuque, Iowa, to start their life together. John worked for Dubuque TV and Cable Company and this started his career in the cable TV industry. John was a cable pioneer and after 50-plus years he retired. John was a member of the Knights of Columbus and American Legion. He was an active member of the VFW, and the Marine Corps League of Iredell County Detachment 1097, and was on the burial detail and helped with the Toy For Tots. He was elected the Marine Corps League's "Marine of the Year" for 2014 and 2018. John was a devout Catholic, Eucharist Minister and a member of St. Therese Catholic Church of Mooresville.
John's family would like to thank the professionals of Right at Home and Autumn Care of Cornelius for their compassionate care of John.
The viewing/prayers will begin at 10 a.m. following with the Celebration of Life Mass at 11 a.m. on May 6, 2022, at St. Therese Catholic Church in Mooresville, N.C. Father Mark Lawlor will officiate the Mass. John will be inured at Arlington National Cemetery at a later date.
Following the Mass, there will be a reception at the Heritage House, 494 E. Plaza Drive, Mooresville, N.C.
Cavin-Cook Funeral Home is serving the family.