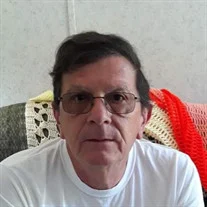 Alan Edward Hannis, 68, passed away Friday, February 24, 2023. He was born May 25, 1954, to the late Edward Hannis and Irene M'Sadoques Hannis in Waterbury, Conn.
Mr. Hannis worked as a toolmaker most of his life. His favorite vacation spot was going to the Odanak Indian Reservation in Quebec, where his parents were originally from and where eventually moved back to until their passing. He enjoyed the outdoors and liked to go fishing. He also enjoyed playing his Gameboy. He loved caring for his cats and he loved his family.
Alan is preceded in death by his parents and sister, Doreen Botelho; as well as stepson, Timothy Markiewicz.
Mr. Hannis is survived by his wife, Janice Hannis; daughters, Danielle McKenney, Nicholette Hannis and Jennifer Hannis; stepson, Chris Markiewicz (Jennifer); grandchildren, Dana McKenney Jr., Samuel McKenney, Myriah Martin, Ashly Martin, Jason Martin Jr., and Kendall Freeman; great grandson, Jasper McKenney; and the mother of two daughters, Elizabeth Izzi.
A funeral service will be held at 4 p.m. Wednesday, March 1, 2023, at Nicholson Funeral Home. A visitation will take place one hour prior, starting at 3 p.m.
Nicholson Funeral Home is serving the family.