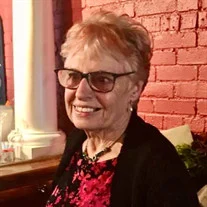 Norma Walker Lee, 84, of Statesville, N.C., died Saturday, February 25, 2023, at her home, surrounded by her family. She was born and raised in England, coming to the United States in 2010. She was preceded in death by her parents, Harry and Nancy Walker, and her stepmother, Vera Walker.
Norma had many jobs in England; her last was a bridal business called Confetti & Lace, which she owned and operated it for several years, selling it to come to the U.S. to be with Alison and the grandchildren. Confetti & Lace is still running today.
Norma never met a stranger and made new friends easily, leaving friends in England to make new friends in the U.S. She was a member of the local gym, bowling club, book club and the garden club.
Norma loved to travel and explore new places, and, in her downtime, she loved to sit on the deck and watch the hummingbirds.
Those left to cherish her memory include her husband of 60 years, Peter Lee; daughter, Alison Hemingfield (Paul); and five grandchildren, Jacob, William, Joshua, Gavin, and Katie Paige. She leaves behind many friends and family both in England and the United States as she joins her cherished son Gavin, who died at the age of 4 1/2 in 1977.
A Celebration of Life Service will be held Sunday, March 5, 2023, at 2:30 p.m. at the Nicholson Funeral Home Chapel with Heather Besoiu, Funeral Celebrant, officiating. The family will greet friends from 1 to 2:30 p.m. prior to the service. Grandsons Jacob and William will serve as pallbearers.
Mrs. Lee's service may be viewed LIVE at https://view.oneroomstreaming.com/index.php?data=MTY3NzUzNjYyMzIzODIxNCZvbmVyb29tLWFkbWluJmNvcHlfbGluaw==
In lieu of flowers, memorials may be sent to the Autism Society of NC, Attn.: Donations, 5121 Kingdom Way #100, Raleigh, NC 27607 or at www.autismsociety-nc.org.
Nicholson Funeral Home is honored to serve the Lee family.