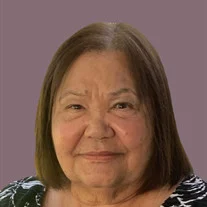 Ana Esperanza Corona, 73, of Mooresville, N.C., passed away on Sunday, January 15, 2023. She was born on October 5, 1949, in Dominican Republic to the late Rufino Espinal and Gloria Rodriguez.
Ana was one of nine children. She enjoyed cooking, gardening, sewing, singing, and going for a walk around her neighborhood. Ana was strong in her faith and always prayed for her family. She loved her family, and she especially enjoyed the family gatherings.
In addition to her parents, she was preceded in death by a grandson, Julian Ferreira.
She is survived by her daughters, Margarita Willard and husband Peter, and Esperanza Ferreirra and husband Ramon; and grandson, Ramon Ferreira Jr. Also surviving are numerous nieces and nephews.
A funeral service will be held at 1 p.m. on Friday, January 20, 2023, at Iglesia Wesleyana Faro De Luz with Pastor Jose Mingo officiating. Burial will follow the service at Glenwood Memorial Park, Mooresville.
The family will receive friends on Thursday, January 19, 2023, from 5 to 7 p.m. at Cavin-Cook Funeral Home.
In lieu of flowers, memorials may be made to Iglesia Wesleyana Faro De Luz, 601 E. Iredell Avenue, Mooresville, NC 28115.
Cavin-Cook Funeral Home & Crematory, Mooresville, is serving the family.