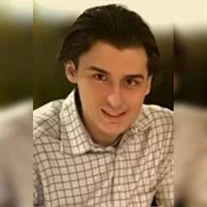 Angel Gjuraj, 18, passed away peacefully on Monday, November 13, 2023, in his hometown of Mooresville, N.C. Angel was born on March 2, 2005, in Stamford, Ct., to his father, Peter Gjuraj, and mother, Alida Lleshaj Gjuraj.
Angel recently graduated from Mitchell Community College and was looking forward to furthering his education in engineering this coming year. More than anything, he loved spending time with his family and going on vacations, seeing and learning different places and things with his family by his side.
From a young age, he had a passion and love for fashion and old vintage import cars. He and his first cousin Victor Lleshaj (buz and cuz) traveled near and far to attend car shows, drifting events, and car meets. With this passion and networking, he was starting his own car club and creating his own brand.
Angel had the most beautiful heart and a pure soul, and he was always eager to make people smile. He was empathetic, compassionate, and loved with all his heart. Angel's family meant the world to him. To know him was to love him.
He is survived by his father, Peter Gjuraj; his mother, Alida Lleshaj Gjuraj; his grandfather, Mark Gjuraj; grandmother, Nonna G.; brother, Mikel Gjuraj; sister, Adila Lleshaj (first cousin); sisters-in-law. Amanda Gjuraj and Robertina Gjuraj, two nephews, Adrian and Mikey; threeand nieces, Artina, Markita and Mia. He is also survived by two aunts, five uncles; and 30-plus first cousins.
Angel was preceded in death by his grandfather, Pren Tune Lleshaj (Baba Birds); his grandmother, Sofija Gjuraj (Nana); and his brother, Mark Gjuraj (Marky).
Visitation will be held on Saturday, November 18, from 4 to 9 p.m. and Sunday, November 19, from 2 to 9 p.m. at Bosak Funeral Home, 453 Shippan Ave, Stamford, Ct.
Funeral rites and interment services will be held at 11 a.m. on Monday, November 20, at Our Lady of Shkodra Albanian Church, 361 W Hartsdale Ave., Hartsdale, NY 10530.
In lieu of flowers, the family requests that donations be made in Angel Gjuraj's memory to St. Jude's Research Hospital to honor his cousin, Ava, a survivor of childhood ocular cancer. You may donate at https://www.stjude.org/donate.
Cavin-Cook Funeral Home, Mooresville, is serving the family.