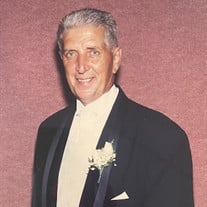 Arthur "Artie" Joseph Brown Jr., 77, of Mooresville, North Carolina, passed away on January 11, 2023. He was born on July 21, 1945 in Brooklyn, N.Y., to the late Arthur and Rose Richards Brown.
Artie proudly served our country in the United States Army and was very proud to be an American. He served in Vietnam and in Desert Storm. Artie also served as a 4th degree Knights of Columbus in New York. He was a very humble and good-hearted man who was kind, generous and everyone's friend. He was always the life of the party and very energetic. Artie's sense of humor was huge, and he was a lover of music and dancing. He had a karaoke and DJ business at one time. He also enjoyed metal detecting and panning for gold. Artie was a great father and would do anything he could do for his children. He was always their greatest supporter and role model. He was married to the love of his life, Maureen, for 22 years. Artie was deeply loved by his family and all who knew him, and he will be greatly missed.
In addition to his parents, Artie was preceded in death by his sister, Mary Brown.
He is survived by his wife, Maureen Peters-Brown; children, Edward and Frederick Brown, Christopher (Jean) Brown, and Gregory Brown; grandchildren, Nicholas and Julia Brown, Gregory Brown Jr. and Travis Brown; siblings, Elizabeth Pasechnick and Raymond Brown; and numerous nieces and nephews.
Visitation will be held on Thursday, January 19, 2023, from 6 to 8 p.m. at Cavin-Cook Funeral Home & Crematory. A Funeral Mass will held at 11 a.m. on Friday, January 20, 2023 at St. Therese Catholic Church, Mooresville, N.C., with Father Mark Lawlor officiating. Burial will follow at 1 p.m. at Salisbury National Cemetery, Salisbury, N.C.
Cavin-Cook Funeral Home & Crematory, Mooresville, is serving the Brown family. Condolences may be made to the family at www.cavin-cook.com.