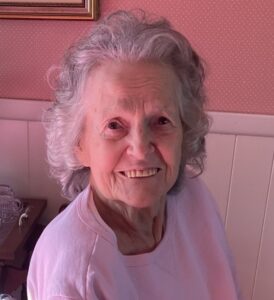 Beatrice "Bebe" Elizabeth Davidson Weston, 91, of Statesville, N.C., passed away, Friday, October 20, 2023, at her residence.
Bebe was born March 19, 1932, in Statesville and was the daughter of the late Charles Piper Davidson and Jessie Crowson Davidson. She was a graduate of Statesville Senior High School and on July 26, 1952, she married the late Wesley Gilbert Weston. She was a member of South River Baptist Church and was a retired Clerk for the Iredell County Register of Deeds.
She is survived by one son, William Jeffrey Weston (Patsy) of Statesville; one son-in-law, Keith Mundy; six grandchildren, Ashley Weston (Lorie), Adam Barnes, Erica Barnette (Shane), Eric Barnes (Crystal), Ashton Kerley (Cameron), and Morgan Sigmon (TJ); nine great grandchildren, Bryce Weston, Kylie Barnette, Carson Weston, Gavin Barnette, Beatrice Barnes, Ethan Barnes, Tucker Barnes, Norah Kerly, and Nolan Kerley; and her special cat, Coco.
In addition to her husband and parents, Bebe was preceded in death by one son, Wesley Boyd Weston; one daughter, Gay Weston Mundy; and two brothers, John and Joe Davidson.
Funeral services will be held on Monday, October 23, 2023, at 3 p.m. at South River Baptist Church with Pastor Chris Thompson officiating. The family will visit with friends at South River Baptist Church prior to the service at 2 p.m. Burial will follow in the church cemetery. Active pallbearers will be her grandsons.
The family would like to give a special thanks to her caregivers provided through Sherrie's In Home Care for their love and support. The family has also requested to consider donations and memorials to South River Baptist Church Missions Warehouse, 2659 S Chipley Ford Road, Statesville, NC 28625 and Hospice and Palliative Care of Iredell County, 2347 Simonton Road, Statesville, NC 28625.
Troutman Funeral Home is serving the family.