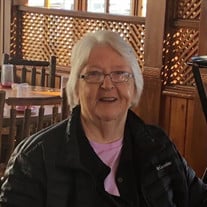 Betty Jane Riddle Barker, 81, of Statesville, N.C., entered her heavenly sewing room on Friday, June 23, 2023, at the Gordon Hospice House after a courageous battle with cancer. She was born on January 19, 1942, in Iredell County to the late Robert and Sallie Riddle.
She married Hugh Barker on October 6, 1961, and he preceded her in death on January 1, 2020. She joined Hugh in his cowboy way of life and love for horses — from the arena of Love Valley to many arenas throughout the states with their daughter Cindy joining in. Cindy gave her Kryssy and Dusty, her pride and joy, to carry on her tradition of faith, family, and horses. Once Betty and Hugh's traveling days were over, they settled into caring for one another, their mule April, and their blue heelers.
Betty's mission field has always been behind a sewing machine in various settings from clothing manufacturing, designing and developing a breast binder which was used at Iredell Memorial Hospital in the Birthplace, moving to predominately alterations, to fulling her lifelong dream of owning her own shop, "Betty's Alterations." Her faithful customers along with new ones followed her from downtown Statesville to her little shop in the country.
She was a member of Mt. Nebo Baptist Church, where she used her gift of sewing to make costumes for the various productions the church put on. Betty looked forward to the Caregiver's Breakfast and loved the fellowship she found there. Her faith never wavered in her love for God, her family, or her church family.
In addition to her parents and her husband, she was preceded in death by her granddaughter, Kryssy Wilson Hensley, and her sisters, Jeanette Mitchell, Nellie Cape, and Mary Ann Emory.
She is survived by her daughter, Cindy Barker Cascaddon and husband Tony; her grandson, Dusty Wilson; great grandsons, Colton and Jaxson Hensley; great-granddaughters, Penelope Wilson and Shaylee Hensley; her brother, Bobby Joe Riddle; and her sister and caregiver, Joyce Bess and husband Dale; as well as many nieces and nephews and other adopted children and grandchildren.
Her family is grateful to Dr. Li and her office staff, the nurses in ICU at Iredell Memorial Hospital, Dr. Charlene Knight, the staff at the Hospice House, and Karen Smith for the care you all provided Betty. We also appreciate every one of you that called, sat with Betty, sent cards, and came to visit over the past year.
Funeral Services will be conducted Tuesday, June 27, 2023, at 3 p.m. at Mt. Nebo Baptist Church in Stony Point. Rev. Brian Eades will officiate. The Family will receive friends Tuesday, June 27, 2023, from 2 to 3 p.m. at Mt. Nebo Baptist Church. Burial will follow at Oakwood Cemetery in Statesville.
For those that wish, memorials may be given to the Gordon Hospice House of Iredell County, 2347 Simonton Road, Statesville, NC 28625 or to the Cancer Patient Support Fund payable to Iredell Health Foundation, P.O. Box 5635, Statesville, NC 28687.
Chapman Funeral Home is serving the Barker Family.