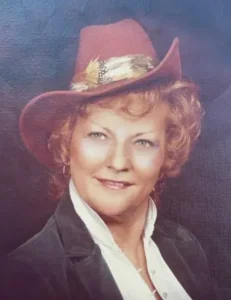 Betty Lou Manning, 92, passed away peacefully on Saturday August 19, 2023. Betty was born in Bath County, Va., on February 12, 1931, to the late Harry Houston Jolly and Edith Bratton Jolly. She was one of thirteen children.
Betty was a devoted wife for many years to the late Wesley Ward Manning Sr. They raised two children together, and she was proud to be a military wife and mother to Vonnie and Ward.
Betty was full of life and her contagious laughter could light up any room she was in. She was known for her fun "firecracker" personality and her bright red hair.
Sewing was her passion and she became a seamstress, making a career of it for many years before retiring.
Family meant everything to her, and she especially loved and adored her grandchildren, great grandchildren and great great grandchildren. She took pride in being called Momma, Grandma, Big Mom and Nana.
She enjoyed spending time in the garden planting flowers and vegetables. If she wasn't in the garden, you could find her in the kitchen cooking a hot meal or baking a sweet treat for the grandkids.
She was preceded in death by her parents; husband; daughter, Yvonne Gourley; son, Wesley Ward Manning Jr.; and grandson, Tanner Hallman.
Those left to cherish her memory include her grandchildren, Kelsey Kenley (Jason), Jenell Hallman, Rayna Williams (Joshua), Travis Manning (Melissa), Talor Manning, Trace Manning (Deanna), Trevor Manning, and Tate Washburn (Josh); 18 great grandchildren; and two great great grandchildren.
The family will hold a private memorial service at a later date.
Nicholson Funeral Home is serving the family.