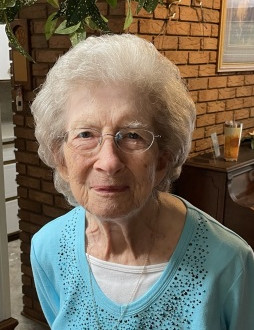 Betty Ruth McCrary Pope, 89, of Statesville, N.C., passed away Friday, June 23, 2023 at the Gordon Hospice House.
Betty was born April 29, 1934, in Iredell County. She was the daughter of the late Sam McCrary and Carrie McGlamery McCrary. She was a graduate of Statesville Senior High School. Betty was married to her beloved husband, Carlie "Bill" Pope Jr. She was a devoted wife, mother, grandmother and homemaker. She was a member of Eufola Baptist Church.
Along with her parents, she was preceded in death by her brothers and sister-in-law, Samuel and Mildred McCrary and John Frank McCrary and her grandson, Bradley D. Sigmon.
Those left to cherish the life and legacy of Betty Pope include her husband of 67 years, Bill; and her children, Cathy Warren (Roger), Patti Welborn (Eddie) Carlie Billy Pope III (Sheri), Stephen B. Pope (Tammy) and Carrie E. Lippard (Scotty). Also surviving are her grandchildren, Amy Howard, Holly Wooten, Nikki Sipe, Zach Pope, Samuel Pope, Megan Prevette, Hannah Morgan, Chris Pope, Thomas (Ty) Welborn, Daniel McLaughlin, Laikyn McLaughlin, and Gracie McLaughlin; her great grandchildren, Karlie Howard, Will Howard, Allie, Averi and Andrew Wooten, Hunter, Jacob, Colton Sipe, Rhett Pope, Taylor Mae, Maesyn, Josiah, and Leigha Pope, Barrett Pope, Moses and Adrian Morgan, and Daniel and Isabella McLaughlin. She is further survived by her sister, Wilma Austin (George); and her sisters-in-law, LaVonne McCrary, Jeannie Sherrill, and Millie Pope.
A visitation of family and friends will be held from 1:30 to 3 p.m. on Monday, June 26, 2023, at Calvary Baptist Church, 300 Indian Hill Road, Union Grove, N.C. A funeral service will be conducted at the church at 3 p.m. with Rev. Stephen Pope and Rev. Jacob Potter officiating. Burial will follow the service at Oakwood Cemetery in Statesville, N.C.
In lieu of flowers, the family asks that memorials be given to Hospice and Palliative Care of Iredell County, 2341 Simonton Road, Statesville, NC 28625.
Troutman Funeral Home is serving the family.