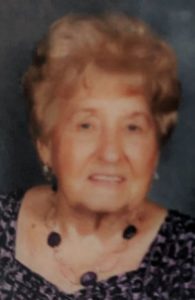 Eula Pauline Taylor, 88, passed away on Thursday, June 22, 2023.
She was preceded in death by her parents, Floyd Everett Jones and Ossie Burchette Jones; her sisters, Bessie and Evelyn; and her brothers, Charlie, Junior, James, and Willie.
She is survived by her husband, James Radford Taylor; her children, Johnny Taylor (Sue), Jimmy Taylor (Joy), and Daniel Taylor (Tamara); her grandchildren, Justin Taylor (girlfriend, Kim), Dana Hill (Daniel), Dianna Nelson (John) and Jessica Talbert, and also two bonus grandchildren; her great-grandchildren, Natalie and Jake Snyder, Addison Hill, Kimberly, Morgan and Brant Causey, and Lawson Talbert; and also five bonus great-grandchildren; her brother, Edward Jones (Norma); her sisters, Linda and Helen Hamm; and many nieces and nephews.
She attended Piney Creek School in Allegheny County and was member of Hams Grove Baptist Church.
She worked in the poultry industry for 32 years at Showell Growers Inc. and Perdue Farms.
She enjoyed going to church, reading her Bible, cooking for her family, going to yard sales, canning, gardening, and growing flowers.
Visitation will be at Hams Grove Baptist Church on Tuesday, June 27, 2023, from 2 until 4 p.m. The funeral service will follow at 4 p.m. Burial will be at Hams Grove Baptist Church Cemetery.
Fond memories and expressions of sympathy may be shared at www.bunchjohnsonfuneralhome.com for the Taylor family.
Bunch-Johnson Funeral Home is serving the family.