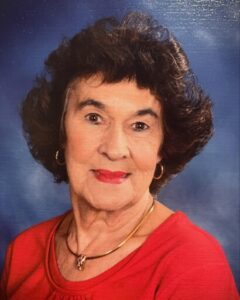 Bonnie Hudson Mayhew, 86, of Statesville, N.C., died Wednesday, October 25, 2023, at home with family after an extended illness.
She was born in Iredell County on January 4, 1937, to the late Bryson Hudson and Vada Miller Hudson. She was also preceded in death by a daughter, Pam Mayhew, who died 48 years ago, and a sister, Gaye Hudson Pope.
Bonnie was the oldest of three children. She was a 1954 graduate of Scotts School and retired from Hunt Manufacturing after working there for forty years. She was a member of Bethel UMC, where she sang in the choir for over 10 years. However, as her health began to decline, she attended Monticello UMC as it was closer home for her. She was an Avon representative for over 40 years, winning many awards and trips as a top seller. She loved having home show parties for cosmetic and jewelry sales.
Bonnie and her husband David raised Pomeranians for over 30 years. She enjoyed her flowers, often making beautiful arrangements and gifting them to others. Bonnie was very outgoing and was known for her love of people, visiting, staying in touch by phone, and having a giving heart. She gave much of her time to organizing reunions for Scotts School and for the Miller-Sipes families. Taking photographs and scrapbooking every event she was a part of brought her and others a lot of joy. Bonnie truly enjoyed life. She was a breast cancer survivor, loved traveling, cooking, baking, canning, showing off her yard and was a big fan of Elvis Presley. Bonnie looked forward to going to the beach each year with her granddaughter and making great memories. She and her husband loved the mountains, especially Pigeon Forge, and built a cabin in Sparta, where they spent lots of time together.
Those left to cherish her memory include her husband of 61 years, David Mayhew; a daughter, Cindy Mayhew Moose (Rickey); one granddaughter, Hailey Moose; two step-grandchildren, Ashlyn Moose and Brandon Moose; one step-great-granddaughter, Adalynn Patrick; a brother, Jack Hudson; and her two dogs, Bella and Yogi.
A Celebration of Life Service will be held on Saturday, November 4, 2023, at 2 p.m. in the Nicholson Funeral Home Chapel with Rev. Ron Setzer officiating. The family will visit with friends following the service.
Nicholson Funeral Home is honored to serve the Mayhew family.