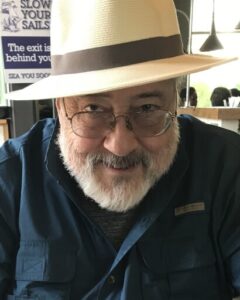 Brian Mooney, 72, of Statesville, N.C., passed away Wednesday, November 8, 2023.
Brian was born May 24, 1951, to the late Daniel and Hazel Mooney, and raised in Hamden, Conn. He earned a bachelor's degree in anthropology at the University of Vermont and his master's in biology at the University of South Carolina, Columbia, where he subsequently taught. He also taught at other institutions, including The Community College of Vermont, The Art Institute of Charlotte, and Johnson & Wales University. Brian's scholarly pursuits included microscopy, astronomy, and science and religion. He was an active member of the Royal Microscopical Society, a member and an assistant section chair of the American Academy of Religion, and a member of the William James Society. Brian was an avid shooter, gun collector, and winner of the Vermont State Pistol Championship for two consecutive years. He served his community as a member of the American Red Cross. He was also an avid reader with an extensive collection of books, and a collector of microscopes, telescopes, and antique fountain pens. His passion for music ranged from classical compositions to The Moody Blues, and he was a devotee of the BBC television series "Dr. Who" from its inception.
Brian married Lynn Norwood Hanson in 2002, and they enjoyed 22 fulfilling years together until his passing. He was preceded in death by his parents; sister Colleen Snell, and niece Bonnee Snell Pierson.
Left to cherish his memory are his loving wife, Lynn Mooney; children Brendan Grant (Shannon) Mooney, Sumner Lee (Danielle) Mooney, Matthew Norwood Hanson, and Leanne Rae Hanson; grandchildren Annabelle June Hanson, Harlee Ann Mooney, Eleanor Dwyer Mooney, and Michael Dwyer Mooney; brother Butch Mooney; nephew Thomas Snell; and former spouse, Lynne Geary, with whom he had sons Brendan and Sumner.
A Celebration of Life will be held to honor this exceptional man in early 2024.
Nicholson Funeral Home is serving the family.