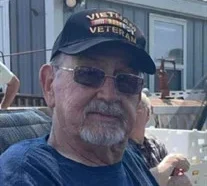 William Roger Miller, 73, of Statesville, N.C., passed away November, 12, 2023, at High Point Medical Center after a brief illness. Roger was born December 12, 1949, in West Virginia to the late Willard Marvin Miller and Reba Hazel Roark Miller.
Roger worked in construction. He served in the U.S. Army during Vietnam and was a recipient of the Purple Heart. Roger was a member of Bright Light Baptist Church.
In addition to his parents, he was preceded in death by one brother, Larry Miller.
Those left to cherish his memory include his wife of 32 years, Margert Mayberry Miller of the home; one son, Blane Miller and wife Katie of Stony Point; one daughter, Joyce Miller of Jefferson; two brothers, Don Miller and wife Janice of Tennessee, and Charlie "June" Miller and wife Barb of Pennsylvania; four sisters, Wanda Mahaffey of Ashe County, Nancy Edwards and husband Doug of Ashe County, and Sue Denny and July Blevins, both of Pennsylvania; ten grandchildren; and six great grandchildren.
Funeral Services will be conducted Saturday, November 18, 2023, at 2 p.m. at Bright Light Baptist Church in Statesville. Pastor Jayson Fox and Rev. Scott Carrigan will officiate. The family will receive friends on Saturday, November 18, 2023, from 1 to 2 p.m. at Bright Light Baptist Church. Full Military Rites.
Chapman Funeral Home is serving the Miller family.