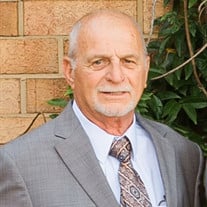 Carl Gene Ceraolo, who was known as "Buddy" to his family, of Mooresville, N.C., and formerly of New York, went to be with the Lord on August 30, 2023. He was passionate about his walk with the Lord and was ushered into his Heavenly home surrounded with the love of his wife of 57 years, Geraldine.
Carl was a proud and loving father of four children and a devoted husband. His friends and family would describe Carl as a hard-working, dedicated, loyal, loving and Godly man. His unwavering support and dedication has impacted those closest to him and the generations that have followed. Carl was a man of great integrity and instilled traits in his children and grandchildren that will surpass many lifetimes. Carl's light-hearted personality kept others in high spirits, and he blessed those around him with joy and laughter. He is remembered as the steadfast pillar that his family and friends could rely on. Carl was a master mechanic and respected businessman with several successful mechanic and automotive-sales businesses. His passion for cars is unmatched, he could fix any engine, and had an impressive knowledge of vintage and modern motors. After his family and friends, Carl's next greatest love was mechanics and his shop. Carl loved watching sports and often attended and watched games with his children and friends.
His legacy lives on through his devoted wife of over five decades, Geraldine (Gerri); his four adoring children and their spouses; his 11 grandchildren and five great-grandchildren; his three sisters and his family and friends, all of whom love him dearly.
Carl's friends and family will celebrate his life with a private gathering on Saturday, September 2, 2023. In lieu of flowers, the family requests a donation to St Jude's Children's Hospital, as it was a cause close to Carl's heart.
Cavin-Cook Funeral Home, Mooresville, is serving the family.