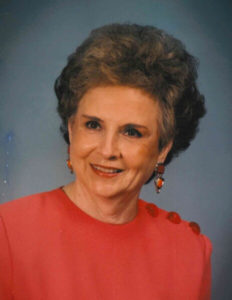 Carol Ruth Winecoff Lapish, 90, of Statesville, N.C., passed away Wednesday, January 18, 2023, at the Gordon Hospice House.
Mrs. Lapish was born in Iredell County, N.C., on September 18, 1932, the daughter of the late Willie Winecoff and Mabel Sloan Winecoff. She was a graduate of Cool Springs High School and was a member of Diamond Hill Baptist Church. Ruth was a church secretary, sang in the church choir, hosted meetings for the Women's Mission Circle and was the co-secretary of the Primary Department. She was married for 65 years to James Clinton Lapish, who passed away in 2020.
Ruth was known for her inner and outer beauty, excellent cooking skills, her devotion to God, and her generosity and kindness. She will be greatly missed by all who knew her.
In addition to her parents and husband, Ruth was also preceded in death by her sister, Hilda Winecoff Cook; brother-in-law Amos Stroud; and nephew Gary Stroud.
Those left to cherish the life and memory of Ruth Lapish include her daughter, Tammy Lapish Houston; her grandson, Alex Houston; her sister, Betty Sue Winecoff Stroud; brother-in-law, Dean Miller; sister-in-law, Gerald Sue Lapish Miller; three nieces, Donna Sue Stroud Harris, Tracy Miller, Carol Cook Earnhardt (Robbie); and four nephews, Larry Wayne Stroud, Fred Nathan Cook, Robert David Harris and Anthony Scott Harris (Audra). Also surviving are multiple great nieces and nephews, in conjunction with great, great nieces and nephews.
A graveside service celebrating the life of Ruth Lapish will be conducted at 1 p.m. Friday, January 27, 2023, at Iredell Memorial Gardens with Pastor Emeritus Reverend Carl Williams officiating.
In lieu of flowers, those wishing to make memorials are asked to consider Gordon Hospice House, 2341 Simonton Road, Statesville, NC 28625.
Troutman Funeral Home is serving the family.