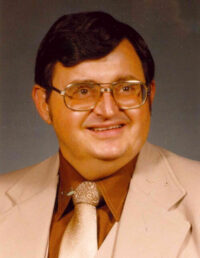 Charles Bruton Guy, 86, of Statesville, N.C., passed away on Monday, October 9, 2023, at the Gordon Hospice House.
Charles was born on April 12, 1937, in Iredell County and was the son of the late Spencer Russell Guy and Myrtle Barkley Guy. He was a graduate of Scotts High School and went on to get his master's degree at Appalachian State University. He married his wife, Nina Dellinger Guy, on December 26, 1965. Charles worked as a math teacher for the Iredell-Statesville Schools system for a short time and then the Charlotte Mecklenburg School system for many years before his retirement in 1990. He was a member of First Baptist Church, where he had sung in the youth choir and later in the adult choir for seventy years. He continued to share his love of music by singing in a barber shop quartet and went on to visit Europe with Dan Pardue to sing. Charles was proud to have been able to visit all fifty states and see the beauties they held. He loved his family, especially his grandchildren, his foster children and all his math students. Among all his teaching and music passions, Charles also loved sports and was able to referee football and basketball for almost thirty years.
Charles was preceded in death by his parents and his sister Faye Guy Bateman.
In addition to his wife of fifty-seven years, Charles is survived by his sons, Charles Russell Guy (Christina) and Jonathan Michael Guy (Belinda); and his grandchildren, Rebecca Ann Guy, Lydia Marie Guy, Katelynn Olivia Guy, Michael Reid Guy, Joshua Charles Guy, Benjamin Russell Guy and Bethany Rose Guy. Also surviving is his niece, Valerie Bateman Jessup.
Funeral services will be held 1:30 p.m. on Sunday, October 15, at First Baptist Church with Rev. Nelson Granade officiating. Burial will follow in Oakwood Cemetery. The family will visit with friends one hour prior to the service, from 12:30 to 1:30 p.m., in the Adams Hall at the church.
In lieu of flowers, memorials may be made to the NC Baptist Children's Home at Baptist Children's Home (baptistchildrenshome.org), Annie Armstrong Easter Offering at Annie Armstrong Easter Offering 2023 – NAMB or Lottie Moon Christmas Offering at Lottie Moon Christmas Offering – IMB Generosity.
Troutman Funeral Home is serving the family.