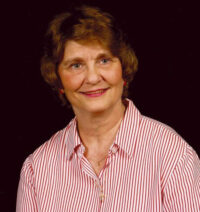 Mary Frances "Pris" Eisele Kimel, 77, born on November 23, 1945, the twelfth child of Corinne Kindler and Emmett G. Eisele, reached her eternal reward on October 8, 2023, at Abernethy Laurels, where she received excellent care, most recently with the assistance of Hospice.
Pris, as she was affectionately called, grew up in Statesville in a busy and happy home with six brothers and four sisters. She graduated from Statesville High, attended East Carolina University and then returned home. She married the late Michael H. Kimel, her high school sweetheart, on June 19, 1966, soon after his graduation from West Point. They were blessed with three sons, Chad, Mark and Scott. As a family through the years of Michael's deployments with the U. S. Army, they were able to accompany him, except for his tour in Vietnam. Pris and Mike were loyal supporters of their sons in all of their athletic activities and education. She was a happy homemaker, loved raising her sons, was a great cook and a gracious hostess, a talented seamstress and willing caregiver. She treasured her large family and, as the youngest, often said that she knew that the Lord had put her on earth to help her siblings in their time of need. She did that many times with great skill and selfless love. At the time of Michael's death at the age of 52, they were living in Florida, the boys were married and Pris was alone. She returned to Statesville, bought a house and was soon a valued employee of her brother Doug's law office until she retired. The most important things in her life were her faith, family and friends. She received all of her sacraments and was married at St. Philip the Apostle Church. She loved being involved in the programs and projects at church. The highlight of her summer was her week at North Myrtle Beach with her family and friends, where she did a cartwheel on the beach until she was well into her seventies.
Pris is survived by her two sons, Chad and Mark, and six grandchildren. Her son Scott died in 2020. Also surviving are one sister and four brothers and many nieces and nephews.
There will be a Mass of Christian burial at St. Philip the Apostle Catholic Church in Statesville at 10 a.m. on Saturday, October 14, 2023. The family will visit with friends one hour prior to the service, from 9 to 10 a.m. Interment will follow in Oakwood Cemetery where her husband is buried.
The family would like to thank all those who cared for Pris during her illness and those friends who loved her in her lifetime.
Troutman Funeral Home is serving the family. Condolences may be sent to Troutman Funeral Home or Jim Eisele at 540 Dogwood Road. Memorials may be sent to the Forward with Christ building fund at St. Philip's or the charity of your choice.