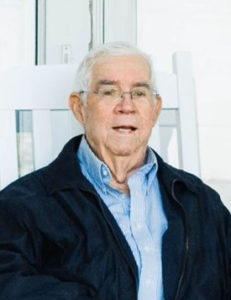 Charles Gay Stevenson, 92, of Statesville, N.C., passed away on Thursday, May 18, 2023 at Gordon Hospice House.
Charles was born on April 2, 1931, in Iredell County, son of the late John D. Stevenson and Rebecca Moore Stevenson. He graduated from Scotts High School and went on to marry his wife, Marie Stevenson, who passed away in 2022. Charles proudly served in the U.S. Army as a Private First Class in 1956. He was a board member of the Farm Bureau and City of Statesville Zoning and was also an ASC Committee member. Charles was a lifetime farmer and was a Century Farm recipient, served on many committees at Concord Presbyterian Church and received the USDA certificate of service.
Those left to cherish Mr. Stevenson's memory include his daughters, Gay Boehm (Eric), and Sallie Mullett (Paul); his son, Pastor John Stevenson (Teresa); his grandchildren, Andrew Boehm (Abby), Steven Boehm, Luke Boehm (Giada), Seth Stevenson (Erica), Kristian Stevenson (Hannah), Stephen Mullett (Lauren), Denai Mullett and Lori Mullett. He is further survived by his great-grandchildren, Claire Marie Boehm, Elijah James Boehm, William Thomas Stevenson, Evan Hunter Stevenson, Emily Hope Stevenson, Landon William Mullett, Lucy Elaine Mullett, Jason Cade Ramos and Janessa Catherine Ramos.
A graveside service with full military honors will be held at 11 a.m. Monday, May 22, 2023, at Concord Presbyterian Church Cemetery at 3867 Taylorsville Highway, Statesville, NC 28625, with Pastor John Stevenson officiating. The family will greet friends following the service in the church fellowship hall.
Those wishing to make donations in Mr. Stevenson's memory are asked to consider Concord Presbyterian, 3867 Taylorsville Highway, Statesville, NC 28625; Troutman Baptist Church Playground Fund, 305 Perry Road, Troutman, NC 28166, or Hospice of Iredell County, 2347 Simonton Road, Statesville, NC 28625. Online condolences may be made to the Stevenson family at www.troutmanfuneralhome.com.
Troutman Funeral Home is serving the family.