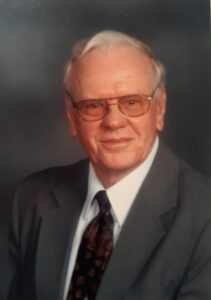 Charlie Lee Lowtharpe, 94, of Statesville, N.C., passed away on September 2, 2023, at his home in Iredell County.
Charlie was born on January 14, 1929, in Iredell County He was the son of the late James S. "Bill" Lowtharpe and Nonnie S. Lowtharpe. In addition to his mother and father, Charlie was preceded in death by his wife Annie T. Lowtharpe, a son Lynn Ray Lowtharpe, a daughter Judy Ann Lowtharpe, and a brother Ralph D. Lowtharpe.
Charlie retired from the post office as a mail carrier. He was a member of the Broad Street Church of Christ and taught Bible studies in various locations. As a dedicated father, Charlie cared for his special needs son at home for 68 years.
Survivors include his daughter, Donna L. Hall; son-in-law, Raymond Davis Hall; and grandsons, William Ray Hall and Davis Sterling Hall, all of South Carolina; sister-in-law, Madge T. Lowtharpe; nieces, Teresa L. Jones and Debbie L. Markwell, all of Texas; and his caregiver, Robin Bell.
On September 7, a graveside visitation and service will be held at Abilene Church of Christ Cemetery, with visitation beginning at 11 a.m. and the service at 11:30 a.m.
The staff at Reavis Funeral Home of Statesville is honored to serve the family.