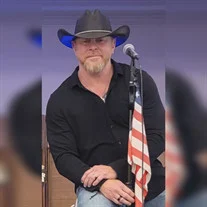 Christopher Lee Loar, 51, of Mooresville, N.C., passed away on Friday, November 17, 2023. He was born on February 24, 1972, in Maryland to Hilda "Jane" Shroyer Loar and the late Elmer Loar.
Christopher was a veteran having served in the U.S. Army for nine years. He was the branch manager for Lansing Building Products and was a member of Williamson's Chapel United Methodist Church. He was passionate about music and singing in the church choir and with his friends in their bands, as well as his country, God, but mostly he loved his family with his whole heart. He will be greatly missed.
In addition to his father, he was preceded in death by his stepson, Richard Allen Coste III.
In addition to his mother, those left to cherish his memory are his loving wife of eight years, Kimberly Kelley Loar; children, Jordan Severance (Cody), Cati Sanders of New York, Dominic Coste, Austin Loar of Seattle, Danielle Suitt (Lathan), and Nicholas Coste; sister, Tina Lee; brother, David Loar, sister LeeAnn Loar Jones; grandchildren, Aria, Celine, Demi, and Paisley; and several nieces and nephews.
A memorial service will be held at 2 p.m. on Saturday, November 25, 2023, at Williamson's Chapel United Methodist Church with military honors and Rev. Mark Pitts officiating.
In lieu of flowers, memorials may be made to Purple Heart Homes, 755 Washington Avenue, Statesville, NC 28677, or contribute to GoFundMe at https://gofund.me/9c05154a.
Cavin-Cook Funeral Home & Crematory, Mooresville is proudly serving the Loar family. Condolences may be made to the family at www.cavin-cook.com.