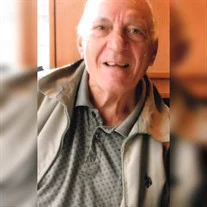 Corrado Anthony DeRobertis, 90, of Mooresville, N.C., passed away on Saturday, November 18, 2023, at Atrium Health Carolinas Medical Center in Charlotte, N.C.
He was born on September 5, 1933, in Hoboken, N.J., to the late Nicola and Rose Squeo DeRobertis. Mr. DeRobertis was a veteran serving proudly in the U.S. Air Force. He was a member of St. Therese Catholic Church in Mooresville. He enjoyed gardening, watching TV, listening to Frank Sinatra, and inventing new things. Most importantly, he loved being with his family.
In addition to his parents, he was preceded in death by his wife, Edda Tognazzini DeRobertis; sisters, Agatha DeCicco, Marie Spallone, Elizabeth Mendelson; and brother, Frank DeRobertis.
He is survived by his daughter, Rose Musto and husband Anthony; sons, Nicholas DeRobertis, Cory DeRobertis and wife Lynn, and Robert DeRobertis and wife Kristine; sister, Eleanor DeRosa; grandchildren, Antonio Musto, Tierney DeRobertis, Lexi DeRobertis, and Taylor and Robert DeRobertis; and numerous nieces and nephews.
A Mass of Christian Burial will be held at 11 a.m. on Wednesday, November 22, at St. Therese Catholic Church with Rev. Mark Lawlor officiating. A graveside service will follow the service at Sharon Memorial Park in Charlotte.
Cavin-Cook Funeral Home & Crematory, Mooresville, is serving the DeRobertis family. Condolences may be made to the family at www.cavin-cook.com.