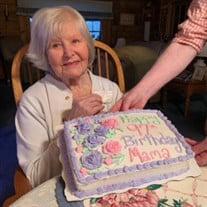 Heaven welcomed a very special lady, Cladie Naomi Pennell, 97, on Sunday, March 12, 2023, due to complications from COVID-19. Born in Wilkes County on January 27, 1926, she was the daughter of the late Quincy Mayberry and Flossie Mayberry.
She worked for many years at The Seafood House and Josie's Restaurant. Cladie was a very giving lady; she loved making crafts that she would give away to children and adults. She also made flower arrangements she would give to those around her as well. She was also known for her cooking and baking. Nobody made a better coconut cake from scratch than she did. Cladie never drove a car and had the same phone number for over 72 years. She was a faithful servant of the Lord and model servant of her church. She enjoyed molding the lives of little ones in their nursery.
Cladie was preceded in death by her parents; her loving and devoted husband, Laxton C. Pennell; sons, Roger Dale Pennell and Jimmy Pennell; brother Clyde " Sonny" Mayberry; and sisters, Helen Hall, Sadie Harkey, and Beulah Call.
Left to cherish her memory is her son, Gary Pannell (Ronnie); and daughter, Diane Snyder (Charles), who were her constant caregivers for 13 years; daughter-in-law, Pam Pennell; six grandchildren, Michael Snyder (Rachel), Kimberly Knotts (Christopher), James Pennell (Brandy) Regina Woodroll (Gary), Shelly Mikulovich (Sergej) and Victoria Cox (Jacob); and six great-grandchildren, Justin Knotts, Charity Knotts, Hope Knotts,Faith Knotts, Hannah Snyder, Nathan Snyder, and Daniel Snyder.
Nicholson Funeral Home is serving the family.