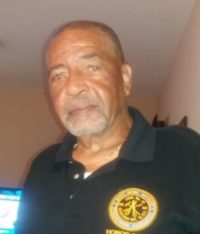 Cleatus Oral Harrison, affectionately known as "Budgie" and named after his father, departed this life on Christmas Eve, December 24, 2022. His passing brings pain to all who loved him and depended on his stabilizing strength and presence. Cleatus was born on November 22, 1949, in Ashland, W.Va., and was the third child among his parent's six children.
At 16, Cleatus moved to the Big Apple to be with his sweetheart, Brenda Faye Harrison. They later married and had three children, Darnell, LaGretta and Sophia.
Growing up, Cleatus enjoyed swimming at the local watering hole in West Virginia and playing with his cousins and his best friend, Junior. He was an avid fisherman who especially enjoyed taking his grandchildren fishing with him during the summer. Cleatus also loved to get together with his close friends and family, hanging out at the pool hall on 127th Street, and was an avid Bid Whist player. He loved listening to oldies but goodies, fishing, cooking, grilling, family outings at Mount Vernon Park, and his Cadillac Seville.
As a young man, Cleatus worked in construction as a unionized sheet metal worker. He was promoted to foreman and oversaw sheet metal installation projects for prominent commercial buildings in New York City such as the Empire State Building, the World Trade Center and City College. He held this profession for 35 years until his retirement in 2004. Cleatus also faithfully served as a Master Mason at Lodge #4 in New York City for almost 40 years.
Cleatus was a consistent, hardworking, honest, and humble man. He was extremely intelligent, a good listener, spoke up when he needed to, and was slow to anger. Cleatus was always a provider and lived on 159th Street for many years before purchasing a home in the Bronx, N.Y., for his family. When he and Brenda separated, he moved to Passaic, N.J., for several years. In 2000 he met his significant other, Peggy Byfield, whom he resided with in Statesville, N.C. Cleatus and Peggy raised her two children, Essence and Jourdan, and he assisted in being a father figure in their lives.
We thank God for the life of Cleatus and what he meant to us. We will forever remember the moments of gladness, and the times we gathered to enjoy one another. Cleatus was a gift to our respective families and will forever be missed by all who loved him.
Cleatus is preceded in death by his parents, Eleanor Jones and Cleatus Harrison Sr.; his sister, Eutoka McGhee; and his brother, Curtis Eugene Harrison. He leaves to mourn Brenda Faye Harrison and their three children, Cleatus Darnell Harrison, LaGretta Shanell Harrison, and Sophia Eleanor Harrison; his significant other, Peggy Ann Byfield; and his two stepchildren, Essence Noelle and Jourdan Lynne Byfield; his siblings, Laura Vaughn, Robert Harrison, and Barbara Gregory; his lifelong friend, Junior Barner; his special niece/daughter, Hakima Muhammad; and a host of grandchildren, nieces, nephews, extended family, friends, and loved ones.
A memorial service and repass will be held at Bunch-Johnson Funeral Home on Thursday, January 5, 2023, from 10 a.m. until 12 noon.
Bunch-Johnson Funeral Home is honored to be entrusted with the care of Mr. Harrison and his family.