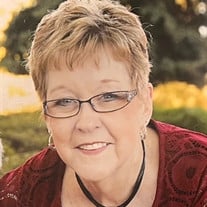 Martha Waters Fulbright, 77, of Mooresville, entered in to the presence of the Lord on Wednesday, January 4, 2023. She was born on December 12, 1945, in Mooresville, N.C., to the late Fred Vernon Waters and Elizabeth Martin Waters.
Martha was a graduate of Mooresville High School and attended Appalachian State University. She was a member of Southside Baptist Church in Mooresville, where she was a member of the Truth Seeker Sunday School class, senior adult outreach ministry, and the Sunshine Club. Her home church for 45 years was Mt. Anderson Baptist Church in Maiden, where she was involved in multiple ministries and missions, including the M.A.S.T.E.R Club. Martha loved to cook and enjoyed sewing but her passion was her family and being involved in her grandchildren's activities and interests. She was a loving wife, mother, Granna, and friend to many.
In addition to her parents, she was preceded in death by her brother, Melvin Waters; and nephew, Chad Waters.
She is survived by her husband of 56 years, Bobby W. Fulbright; children, Pamela Caudle (John) of Lincolnton, Matthew Fulbright (Melissa) of Mooresville, Emily Torrence (Mark) of Mooresville; sister, Judy Huffman (Tony) of Maiden; brother, Fred V. Waters Jr. (Paula) of Tennessee; sister-in-law, Pat Waters of Concord; grandchildren, Sherridan Fulbright, Cashion Fulbright, Wyatt Torrence, and Sawyer Torrence; and niece and nephews, David Nichols, Wendy Mauldin, and Scott Waters.
The family will receive friends on Sunday, January 8, from 2 to 3 p.m. with a service following at 3 p.m. at Mt. Anderson Baptist Church, Maiden, with Rev. Donald Cline and Rev. Charles Ingle officiating. Burial will follow the service in the church cemetery.
Cavin-Cook Funeral Home & Crematory, Mooresville, is serving the Fulbright family. Condolences may be made to the family at www.cavin-cook.com.