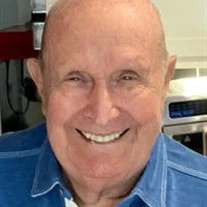 Clifford Richard Boeckman, 95, of Mooresville, N.C., was born on July 30, 1928, in Eagle Butte, S.D., and passed away on October 13, 2023. He leaves behind a legacy filled with incredible achievements and a profound commitment to both the medical field, his family and friends.
Cliff's educational journey was marked by great accomplishments. He graduated from Eagle Butte High School, attended Northern State Teacher's College, Marquette University and the University of Pennsylvania Graduate School of Medicine. His thirst for knowledge and dedication to learning defined his life. He proudly served in the U.S. Navy from 1958 to 1960, dedicating his time to his country.
After his honorable service, Cliff embarked on an international adventure, relocating to Liverpool, England, with his wife Lois and their young daughter, Jan. It was there that he completed his surgical residency. In 1963, they returned to the United States, settling in Akron, where he began his medical career at Akron Children's Hospital.
During his tenure at the hospital, Cliff served as the Director of the Regional Burn Center and held the esteemed position of Chairman of the Department of Surgery. He was at the forefront of advancing various treatments and surgical procedures, most notably in expanding and enhancing the care of prematurely born children. He was one of the pioneering few in the nation to surgically treat children born with Spina Bifida, and also played a pivotal role in developing one of the first methods for growing cultured skin to improve the treatment of burn victims. His groundbreaking research paved the way for the routine use of artificial skin today. Throughout his career, he generously shared his knowledge through numerous publications in national medical journals and as a Professor of Surgery at Northeastern Ohio University College of Medicine. He touched the lives of countless children and adults in the Northeastern Ohio area through his dedicated work at Children's Hospital.
While he regarded his profession as "the best job in the world," Cliff also actively immersed himself in the simpler joys in life, such as hunting, fishing, gardening, and grilling. He and Lois enjoyed many years of life by the serene Lake Keowee in South Carolina. Cliff could often be found tending to his extensive garden and sharing the bountiful produce with his neighbors. He relished in hosting gatherings and was happiest when the whole family gathered around the table. He never failed to ensure there was an abundance of food, not only for his loved ones but also for the birds he would delight in enticing to his window. He took special pleasure in taking visitors out on his boat, spending hours towing his grandchildren on water skis behind it.
In recent years, Cliff resided in North Carolina with his daughter, Nancy, and her family. He continued to savor the beauty of his lake view, countless meals grilled to perfection, and the many visitors who made the time to see him and shared stories and indelible memories.
As a father, father-in-law, and grandfather, Cliff took pride in setting an example that hard work pays off, to give more than you receive, to always put things back where they belong, to be kind to others and to provide laughter when you can. His infectious laugh was the best medicine for himself and those around him. When asked about his well-being on any given day, his response was always, "Excellent or Better," a reflection of how he lived his life.
Cliff was preceded in death by his beloved wife Lois. He will be deeply missed by the many who loved him, including his daughters Jan Hays (John), Ann Delevante (Robert), Nancy Rosato (Craig), and Sue Coopman (Jon), as well as his grandchildren Emma, Eric, Ben, Abby, Cole, Max, Ella, Evan, and Carly. He also leaves a host of extended family and friends who consider themselves fortunate to have had him in their lives.
Details regarding a celebration of life will be announced at a later date.
In lieu of donations, the family kindly requests your thoughts and prayers in memory of Cliff and the profound impact he had on the lives he touched. Hooray for Clifford!
Cavin-Cook Funeral Home is serving the family.