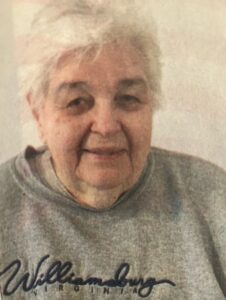 Constance Lee Heil Barnette, 78, of Harmony, N.C., entered her heavenly home on November 2, 2023.
Connie, as she was so lovingly known, was born on September 5, 1945, in Babylon, N.Y., (Long Island). She was the daughter of the late George B. Heil and Rita Maria Murnaugh Lee. In addition to her mother and father, Connie was preceded in death by her husband Jerry Barnette.
Connie attended schools in New York. Later, she chose a career in the textile industry, where she worked in a parts shop. Connie worked for Hanes Hosiery for many years until she retired. In Connie's last eight years of health, she spent them caring for her paraplegic husband with lots of love. She was a member of the Rabbit Club and was a religious scholar. Connie was a perfectionist at everything she did, including making fine art quality quilts. She was always trying and learning new things.
Connie leaves behind to treasure her memory three daughters, a sister and brother-in-law, and a host of grandchildren and great grandchildren.
On Friday, November 3, a visitation for Connie will be held at Reavis Funeral Home of Statesville from 4 to 8 p.m. On Saturday, November 4, a graveside service will take place at Friendship Baptist Church Cemetery at 2 p.m.
In lieu of flowers, donations can be made to The Quilt Ministry, P.O. Box 279, Clemmons, NC 27012.
The staff at Reavis Funeral Home of Statesville is honored to serve the family.