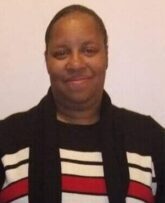 Mary Jane Morrison Caldwell, 56, passed away on Friday, October 27, 2023, at Atrium Health Wake Forest Baptist Medical Center in Winston-Salem, N.C. Born on August 14, 1967, in Iredell County, she was the daughter of the late Tom Franklin Morrison and Peggy Joyce Simpson.
Mary had a passion for shopping, which she enjoyed sharing with her husband. She enjoyed watching her favorite cooking shows and loved her jewelry. Mary also enjoyed "Door Dashing" with her granddaughter, Nobbie, and her son, Jonathan.
In addition to her parents, Tom Franklin Morrison and Peggy Joyce Simpson, she was preceded in death by her grandson, Noodie Blue King; and brother-in-law, Terry Caldwell.
Those left to cherish her memory include her husband of 37 years, Aaron Caldwell; children, Christopher Caldwell, Jonathan Morrison, Aaron Caldwel, Jr. (Ashley), Anary Bellamy, and Rara Robinson; grandchildren, Xay-Nadie, Xiy-Nobiah, Aniyah Caldwell, Dakota Morrison, and Jacob Morrison; sisters, Deborah Caldwell and Phyllis Gregory (Walter); brothers, Franklin Simpson (Chairta), Anthony Rucker, and Thomas Morrison; her special nieces, LaKisha and Lashonda; her special nephew, Walter Gregory Jr.; and a host of other nieces and nephews.
A Service to Celebrate her Life will be held at 3 p.m. on Saturday, November 11, 2023, in the Chapel of Nicholson Funeral Home.
Nicholson Funeral Home has the honor of serving the family.