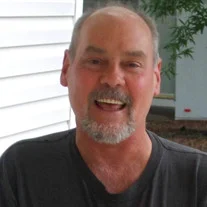 Daniel Anthony Reuther, 67, a former electrician for International Brotherhood of Electrical Workers (IBEW) for over 30 years, died of lung cancer complications in his home Sunday afternoon, July 30, 2023, in Stony Point, N.C.
Dan, or Mr. Reuther (which he would respond by saying "call me Dan, I'm not that old"), was a man of constant dad jokes and long stories. He could start a personal story and find a way for it to turn into another clever joke. Dan always found the brighter side of all situations, and usually found a story to fit it. Dan was even writing down stories of amazing or intriguing people he met along the way while he traveled up and down the East Coast with his "Union" brothers from Florida to Long Island.
Dan loved the ocean and if he were anywhere, he'd be jumping waves in the sea. Dan passed his love of the ocean to his children by teaching them how to catch sand crabs, fish off the piers, find shells, and crab with nets, all while sharing the cool facts he knew about fish, tress, weather, and wildlife, etc. Dan always had "useless knowledge" to keep your brain inspired. Some of them came from his years in forestry school as a young adult, others from his thirst of knowledge.
Dan loved NASCAR, politics, and socializing with his neighbors in Riverwalk. Dan loved shooting the breeze with everyone, and he took the time to know your name, even if you were simply serving him a meal. Dan would keep records of every day of his life and cared to know the birthdates, celebrations, and trials of those he loved. He would send texts or letters but hated when that group text kept going on afterwards.
Dan loved the Lord, and his living space was filled with Bible verses he collected as he studied daily as a Catholic who practiced love, acceptance, and forgiveness.
Dan, more than anything, loved his family, and pictures occupy nearly every wall.
Daniel Anthony Reuther leaves his beloved family. Surviving are his three daughters, Kristi Combs, RN, of Hillsborough, Sarah Gibson Davis of Kannapolis, and Jessica Taylor (Zach) of Matthews; and his only son, Daniel Z. Reuther (Mallory), PA, of Angier, N.C.; Dan's siblings, Patricia Reuther (Tom) of Fleetwood, Janet Reuther of Warrenton, N.C., and Thomas Reuther (Susan) of Boxborough, Mass., along with his nieces Chelsea (Anudeep) and Ashley (Kyle); his grandchildren, Brianna (Chris), Angel (Tyler), Alyssa (Dekota), Justin, Drake, Gavin, Trevor, and baby Evedene. Dan was looking forward towards meeting CJ, his great grandson in September, going to his 50th year reunion in Long Island, attending to a friend's wedding, and traveling more with close friends. He hopes to be reunited with his late wife, Jewell Elaine Miller Reuther, and his dearly missed parents, Dan and Ann Reuther.
The family request you to join to celebrate his life at his home, 147 Ridge Point Drive, Stony Point, on either Saturday, August 5, from 2 until 5 p.m., and again Sunday, August 6, from 4 to 7 p.m. Please call 631-742-1465 for gate entrance.
In lieu of flowers, please consider donations to the Veterans of Foreign Wars, Feeding America, or the National Democratic Party.
Cavin-Cook Funeral Home & Crematory, Mooresville, is serving the Reuther family. Condolences may be made to the family at http://www.cavin-cook.comwww.cavin-cook.com.